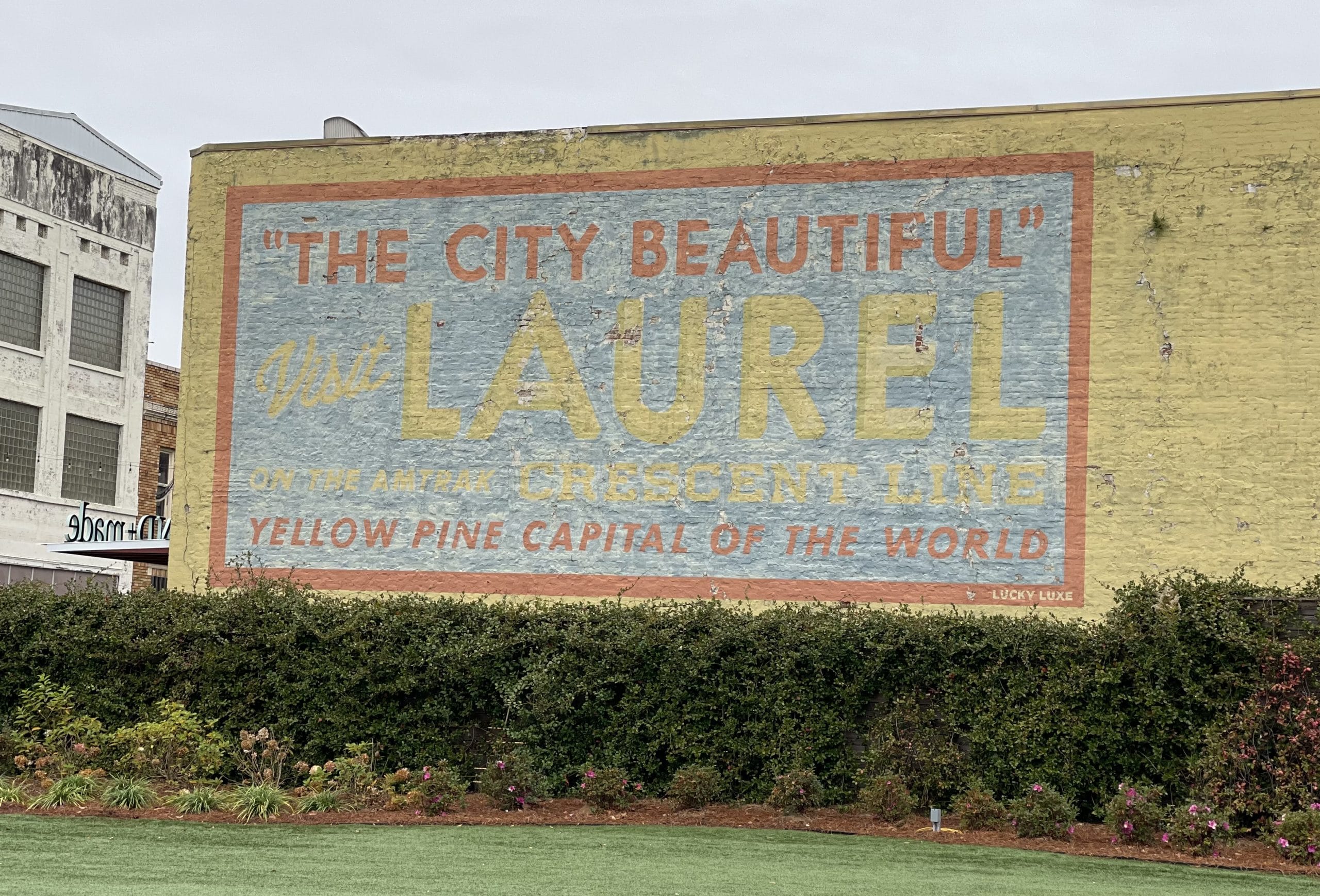 12 Dec

Discover Laurel -A NEOTERIC LITTLE "OLD" TOWN in Mississippi
PipesTraveler Rating:





Many of our friends and followers have seen the HGTV hit series titled "Home Town" with co-hosts Ben and Erin Napier. Liz and I have seen several episodes of the show and enjoyed the amazing talent they have in remodeling and re-imagining old homes. Erin was born and raised in the small community of Laurel, MS and still has a passion for her hometown. The wildly popular couple met in college at Old Miss. Ben proposed to Erin six days afterwards and have been passionately in love with each other and their businesses for over 13 years – their story makes for very interesting reading. We like everything about the Napier's. Their website and lots of information is right here .
Laurel, MS was originally established as an old logging community and dubbed: "The Yellow Pine Capitol Of The World". Located roughly thirty miles and one chocolate malt North of Hattiesburg, MS. While the focus of industry has changed from mostly logging to many small businesses Laurel has been undergoing a modern day renaissance. The town is now enjoying a population of 20,000, seems to be percolating with activity and promise for a continued great future.
Laurel is a neat little town and we took an early (8am) Sunday morning walk through all of the downtown blocks just to check it out. The whole town was either still sleeping or getting ready for church….no one on the streets! Sans the Agape Church on Central Ave. nothing else was open so the casual stroll was quiet and enjoyable. We loved the use of large outdoor "common" space for folks to gather. One of the larger outdoor venues was covered with artificial turf to ensure the area wouldn't become a trampled mess. So clever and neat!
Erin has an amazing eye for interior design and we love all of her renovation modifications on the many old homes that she and Ben have completed. Erin's mantra is: "Bloom where you're planted", so as her true hometown it's only natural that the TV series would begin in Laurel. The entire town has been impacted in one way or another but ALL in a very positive fashion. Not only have fifty plus homes been flipped via the buy, fix and resell but much of the downtown district has seen a revitalization. A large section right in the heart of town is under construction at this time where some of the old buildings and streets are receiving a big facelift.
We were only in town one night and the hotel/motel options were very limited. Liz suggested a room at the Hampton Inn & Suites and while the accommodations were fine, the price with tax was $199.48. I guess we expected more places to choose from and hoped to stay right near the downtown area and just walk to the shopping area. The distance really was only a short drive. This being said we do recommend– the hotel and the staff were very friendly and helpful. The guest room was very clean and the bedding offered a terrific night's rest.
Liz and I were both born in a small historic town (1851) in central Florida so we have a deep appreciation for these special places. Laurel took us back immediately to our roots in Bartow, FL where we had a shoe repair shop, a small news stand, downtown family owned hardware store and the corner drug store. Most everyone knew each other or at least of your family when we were growing up. Thousands of these tiny towns have been blighted by the large interstate highways and other newer thoroughfares where traffic never goes through town anymore. The huge shopping malls and big box retailers have built up outside of the smaller downtown districts resulting in thousands of small businesses having to shutter their doors.
Thankfully community leaders, developers and courageous entrepreneurs are discovering the park-like settings located within small towns to build new restaurants and retail stores. On our travels we've witnessed these positive changes many, many times and its exhilarating to see! There's something very smart about taking the old and bringing back new life without destroying the history and the charm of the early architecture. This is true of commercial buildings and historic homes. The entire team involved with producing "Home Town" understand these virtues and the community is rewarded over and over again.
We definitely plan to return to see the continued changes and hopefully get in a full day of shopping and a meal at Pearl's Diner. For our many RV friends out there we'd suggest trying Sleepy Hollow RV Park.
We do highly recommend taking a trip to visit Laurel, MS – the hospitality and friendliness were outstanding. As a place not to miss we give them our 4.5 Pickle reward. Once the street repairs are all done and maybe another option or two for lodging comes about…it's a full 5 Pickle recommendation!
Like this Post?
Click to give it a thumbs up!