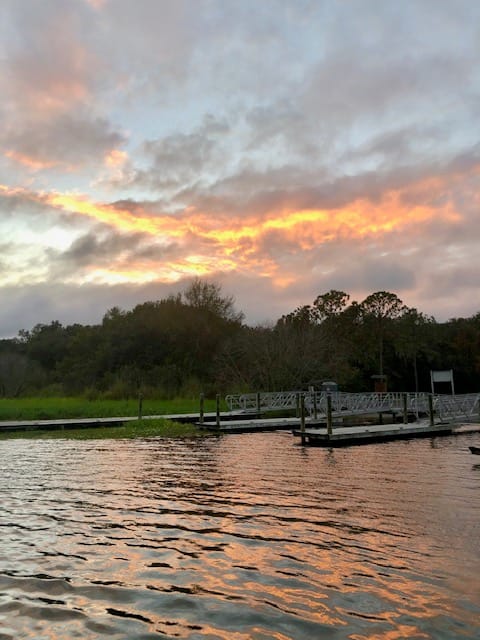 30 Mar

We've been thrown out of worse places!
PipesTraveler Rating:





As we wind down our winter visit back to Florida (yes the heat has already arrived) we were trying to dodge the Coronavirus pandemic and staying low…on the down low. We thought we had found the perfect plan for staying in the central Florida area with a lovely spot at the Edward Medard Conservation Park and Campground. We booked for 14 days per the staff and we were to come back up to the office and book additional weeks, etc. if we chose. This is one of those few places that don't take reservations…you just have to get lucky when you arrive. Really makes it hard to plan a trip over here for a few days but the demand is high and with the small size of the campground guess thats the way it has to be.
The park overall is pretty large with about 1,300 acres and a 700 acre reservoir for terrific boating and fishing on the dug out remains of a phosphate pit. There's a lot of open space for picnicking, trails for hiking and bird watching. They do offer canoe/kayak rentals, large picnic shelters for gatherings of all kinds. The park team keep the grounds clean as a whistle and the camp hosts/volunteers do an amazing job of keeping the bath/shower house spotless!
This park is located close to the town of Plant City, Florida which is worth a visit – here's a link to a post we did recently about Plant City – earlier post
It's a county park of Hillsborough County so no discounts on camping unless you're a senior 65 or older or a resident of this county. Our daily rate was $18 being over 65 but not county residents. Not bad at all for the quality of the park and the camp sites. The campground has two loops…. 1-17 sites and another with 18-42 sites for a total of 42 sites. They are all pretty large and most roomy enough for Class A motor-coaches. The sites all offer a picnic table, fire ring, 30/50 amp electrical service, and water connection….sites are mostly level. There are bath houses in each of the two loops if needed. A dump station is on site for use at no additional charge.
Pets are welcomed but must be kept on a leash at all times which is par for the course…the leash helps you to jerk "Whiskers" up off the ground in the event of a stray or loose meanie. It happens way too often at campgrounds. The campground is very quiet because of its location – love this. There's a boat ramp with plenty of parking close to the campground and picnic areas.
Hillsborough County made the call to close the park (Covid19) and run off all of the otherwise happy campers to fend for themselves with literally nowhere to go….we did get a week's notice to vacate and the staff tried to work with everyone on the refunds, etc. that were necessary. The campground went from 100% occupancy to zero within just 4-7 days. When considering visiting this park for camping, we strongly suggest that you call them the day before you're planning to arrive around noon-2 pm and the staff can give you an idea of how many sites (if any) might be opening then if it looks promising arrive at the front gate early and this will increase your chances of getting a site.
Plant City is well known for its abundant strawberry production and there's huge fields of these delicious berries in February-April and the weather is ideal too!
If you're into birding at all this place has some amazing opportunities – Snowy Egrets, Anhingas, Double Crested Cormorants, the Great Blue Heron, White Ibis, and the smallest Heron…the elusive Least Bittern
This is an excellent County Park and as such based on our experiences we're awarding them with a 4.5 Pickle review! Come over sometime and see what you think BUT save us a site!
Edward Medard Conservation Park and Campground, 6140 S. Turkey Creek Road, Plant City, FL 33567 – (813) 757-3802
Like this Post?
Click to give it a thumbs up!