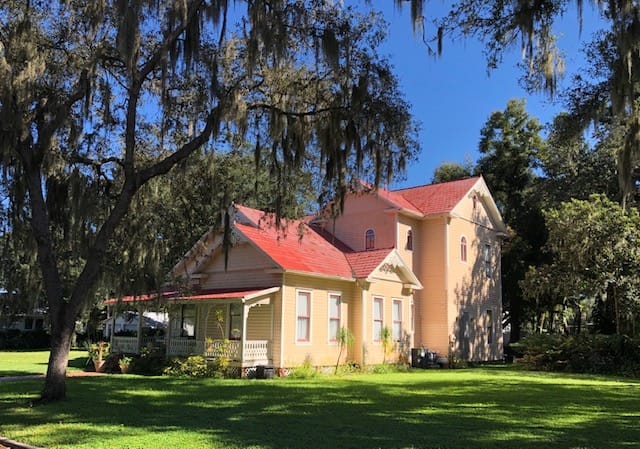 01 Dec

The City of Oaks and Azaleas- thank You Lord.

They say you can never go back home. I've heard this and we're sure you have too. When Liz and I left our hometown of Bartow, Florida back in the early 70's we were sure we'd be back for family visits BUT would never actually live here again. It was surely the old….I'm too smart to stay here, its not hip enough, its too damned hot, too boring, too this n that….the thoughts of naive young kids.
As we reckoned with the real world in our lives of residing in many parts of the country with different jobs, climates, cultural and economic differences we would reflect back on Bartow. There were certainly communities that we enjoyed and some not but all marked us with life experiences that would shape us forever. As Stevie Wonder said: "Minds ripen at different ages" and my fav is from Mark Twain, "Wrinkles should merely indicate where smiles have been". In our case we know the Twain quote to be true.
My partner of 43 years is affectionately known as the "current" Mrs. Pipes cause I'm confident she's going to wise up and find a better husband. Liz Richardson and I were both born in Bartow in 1952, graduated kindergarten together and I've been trying to shake her ever since! Ha ha – it's been fun knowing her all these years and her character was cast early by family and this small town's values. We both feel blessed by growing up in this small community and still having so many life-time long friends.
Our parents both arrived in Bartow about the same time….Charles/Betty Richardson in 1951 and Dick/Pat Pipes in 1949. Liz's family home was on McAdoo and we were on Iveryanna Ave. both tiny concrete block homes about one mile apart. A very simple lifestyle in a neighborhood that everyone ran in the streets together and laughter filled the air.
Bartow is the County Seat for Polk County – Founded in 1851. It's been a very slow growing town, both nearby towns of Lakeland and Winter Haven exceeded the population of Bartow long ago. Currently the population is approximately 20,000 and the demographics are 68% white, 24% African American, 8% all others but within the 8% 15% are Latino/Hispanic which includes 10% Mexican Heritage. It's a wonderful community of happy and industrious folks.
Polk County during the days of our youth was the leading industry for phosphate in the United States AND led the Nation in citrus production – this was true for most of the 20th century. In the most recent years the phosphate mining has ended and moved on to other areas and the terrible citrus canker or "greening" has decimated our incredible citrus crops.
A couple more stats – the median age here is 36 and median household income is $56K so NOT a retirement community. It's active, working and improving with lots of the older historic homes being remodeled and brought back to earlier glory. So happy to see this. The homes are very unique no cookie cutters. Many of our favs are shown within this post but we're only scratching the surface. The climate in the winter is fantastic with December average daily highs at 71 and average daily lows at 46.
South and mostly East of town theres a huge development planned that promises to add 11,000 homes, one million sf of commercial space, three schools and a new golf course. This is all to be created on top of reclaimed phosphate mine lands which is a great use of that land. The project encompasses over 18,000 acres and has been "in the works" a long time getting all the proper permitting, etc. approved.
Finally, I have to cover the beauty of this town….the homes of course but Bartow is known as The City of Oaks and Azaleas because of the ancient Live Oaks and the thousands of native Azalea plants that buoy the landscapes. I'd suggest that the Live Oak shown below is the most impressive Oak but we also have Water Oaks, Myrtle Oaks, Sand Post Oaks, Laurel Oaks, Scrub Oak and Chapman's Oak to name a few. The Oaks fall into only two groups: The Whites and The Blacks (Red).
The Azalea is from the Rhododendron family and can only survive in Central and North Florida climates. In the Spring (February-April) the town is ablaze with color! The native Florida Azaleas are each different colors and named as follows: Florida, Flame, Piedmont, Chapman's and Swamp. A tip for the locals….they need light pruning 3-4 times after blooming and STOP by the Fourth of July so they can set the blooms for next year!
Visit Bartow soon and often. Its a wonderful town and the folks are very welcoming. Here's a link for you: Bartow