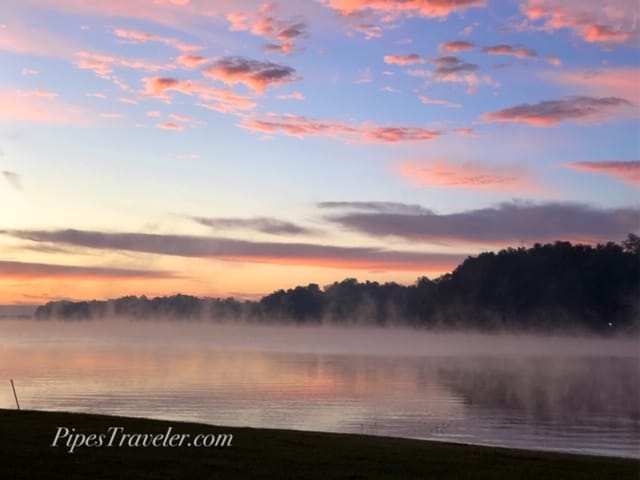 23 Nov

Lovin' on some Alabama
PipesTraveler Rating:





As we were heading back in the general direction towards our winter respite back to Florida – we couldn't resist a visit for a few days back in Alabama. This is a state that we've come to really appreciate. Growing up relatively close in Florida it wasn't on the radar for any vacations as most Florida folk travel to North Carolina or maybe the north Georgia area.
We've played golf on three of the courses on the Robert Trent Jones Golf Trail info visited several towns and a few of their State Parks and the overall impression we have is that WE LOVE ALABAMA.
We decided to check out a Corps of Engineers campground that's located just a bit south of Eufaula, Al where we did a blog post last year…. this time we set up camp at White Oak Creek Campground. It's a winner.
Overall the campground is very large with spacious sites many right on the lake! There's 130 camping sites all with water/electric 30 and 50 amps. Level sites with fine crushed gravel, picnic tables, fire rings with a few pull throughs. They say you need to make reservations four days in advance but we didn't and got lucky and were able to pick a nice site in the walk-up area where they have a large number that are set aside for first come – first served.
We were there over the dates of October 21-25 and there were many sites open, the weather was perfect and we just wondered how we got so lucky! Before I forget….on the main road just 2-4 miles away on the right side of the road heading towards the campground there's an enterprising fellow that sells firewood at a great price – stock up there as they don't sell it in the campground.
The campground sits on the Walter F. George Lake and from your campsite you can see the other side of the lake which is Georgia. The sunsets are fantastic on the lake…. as always you have to catch it "just right" as we did and you'll be thrilled! Lots of fishing along the edge of the lake so no problem with the fly rod – we managed to catch a few smaller bass and enjoyed it. There's a boat ramp just outside the park so easy in/out. Lot's of water to cover too.
The sites are $24/day and half price with the National Parks Sr. Pass so we only paid $12/day…. love that! They also offer dump stations and nice shower facilities. Note: ants can be a problem at this campground so be sure to spray around your site upon arrival and check often… not fire ants just the annoying tiny sweet ants.
Overall we have to give this campground a 4 1/2 Pickle rating and if they had offered sewer hook-ups it would be easy to bestow a full FIVE Pickle rating!! We really had a super nice visit – very relaxing and do recommend it to you especially in October….the weather was just deeelightful the entire visit.
White Oak Creek Campground – 395 Highway 95, Eufaula, AL 36027 – call them at (334) 687-3101
Like this Post?
Click to give it a thumbs up!