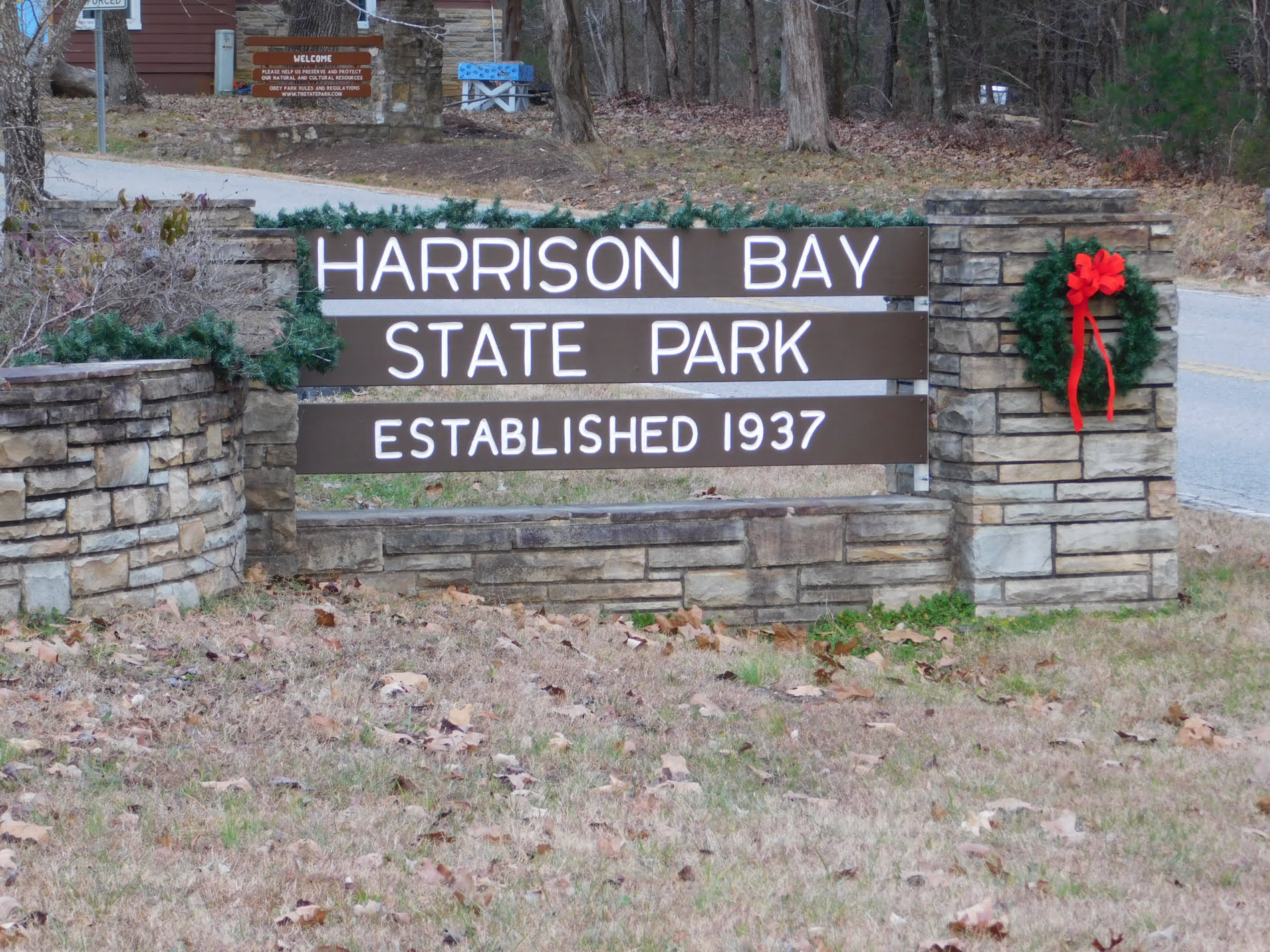 15 Dec

Harrison Bay State Park – Harrison, TN
PipesTraveler Rating:




This park is located 35 minutes NE of Chattanooga, TN. A 1,200 acre park situated right on Harrison Bay which is a large bay at the main channel of the Tennessee River that makes up Chickamauga Lake. A terrific fishery that holds abundant Large and Smallmouth bass as well as the ever popular (to fry) Crappie.
The park offers a large marina with a ton of slips for boats that enjoy exploring the large body of water that is called the Chickamauga Reservoir. The confluence of the Tennessee River, Harrison Bay, and Chickamauga Lake are all names that make up this mass of water. Way to damn cold and windy on this trip for fishing but would sure be fun in the future. We visited Dec. 2-4, 2018 and as expected we encountered very few other campers during the off-season period. The park offers 128 RV sites in four areas, A, B, C, and D. Our site B-36 was tight and offered electric 30/50 amp power and water only. We moved to B-37 to have more space to get lined up and level but it was still tough and un-level. We arrived after dark and it was impossible to see where we were going with lack of lighting and proper signage…We suggest that the Area D loop might be the best if open when you arrive.
The bathroom facilities were clean as we've come to expect at all state parks but the hot water was not sufficient for more than 1-2 people….also as typical no hooks, benches, shelving, etc. to place clothes, towels, soap, etc. I'm convinced IF the park system management team were to actually use these facilities themselves that the small investment of more basic residential amenities would be made. Taxpayers deserve better than this.
The off-season, Sr. discount provided a rate of $21 per night plus tax. Nice.
Hiking at this park is limited and not particularly impressive. We did see several deer and wild birds throughout the park. Golf is available only 1.5 miles away at Bear Trace Golf Course, a Jack Nicklaus designed track.
A side trip one day into Chattanooga was fun as we met up with our friend John Campbell with the Chattanooga Bakery (Moon Pie) and enjoyed a great lunch at The Boathouse. Terrific lunch venue in Chattanooga
We had a nice reconnect with the old Chattanooga Choo Choo and could not resist a visit to Chattanooga Whiskey's Micro-Distillery and Tasting Room. Micro-Distillery and Tasting Room We dropped off a copy of the premier issue of Bourbon Plus magazine for them to review.  Bourbon Plus Magazine
Overall this park didn't pass muster with us but in total fairness the off-season aspect weighed heavily on our overall experience. Nonetheless a 3.5 Pickle review was awarded because of the crowded spacing, unlevel sites, hot water issues in bathhouse and no sewer/gray disposals on sites.
Harrison Bay State Park, 8411 Harrison Bay Rd., Harrison, TN 37341 (423) 344-6214 Harrison Bay State Park
Like this Post?
Click to give it a thumbs up!