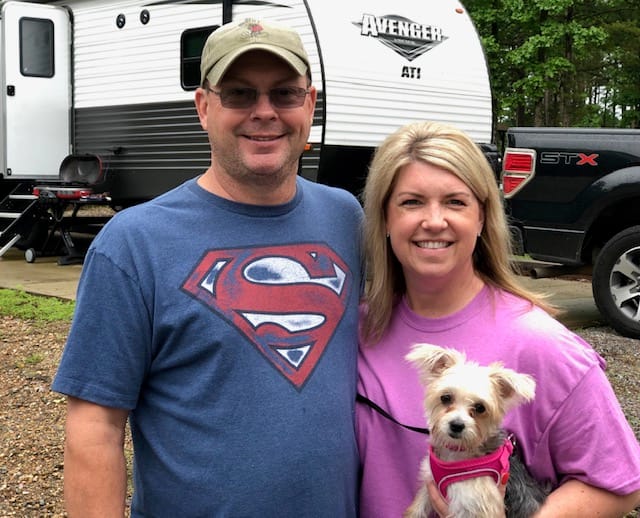 23 May

Brady Mountain Recreation Area
PipesTraveler Rating:




Liz and I were enjoying the state of Arkansas and felt compelled to find a camping spot somewhere near Hot Springs so we'd have an easy drive to yet enjoy another beautiful campground. Brady Mountain Recreation Area looked like it might be a good fit. The campground is a Corps of Engineers facility.
Driving up the mountain to the campground we were shocked to see 3-4 sections of the roadway that was covered with running water flooding across our path. The first one we came to seemed deep and rushing pretty fast… we stopped immediately to observe and make the decision to cross or back-up and go elsewhere… about that time a guy came down the mountain and he told us to go ahead it was fine and that he had been through it earlier when it was even worse and had no problem.
We moved forward and made it through this one and three other places that were flooded – hairy but all part of the adventure! Upon arriving to the top and the entrance to the campground – all was well. We were met by Park Host/Volunteer Roy Brown. He was awesome and helped us get all the info we needed, which included fresh water cause the sites did not have water…we loaded the fresh water tank (42 gallons) right near the park entrance and found a great site with a view of the lake. Roy quickly became a friend of ours.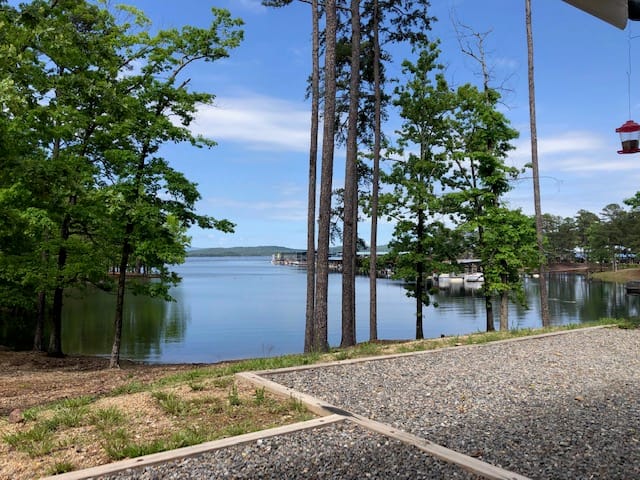 Roy came over and made sure we were happy with everything and filled us in on more of our questions. The internet/phone connectivity on the site was terrible but just over the ridge it was fine/fast.
This park offers 57 RV sites, level, gravel or paved concrete pads all with electric only…not ideal but we're used to it and for 2-3 days no issues for us. Located right on a small mountain (Brady) on the Southern edge of the huge (48,000 acres) Lake Ouachita. The views are terrific both of the lake but of the surrounding areas as well.
They do have bathhouses with showers, they were clean as a whistle but like ALL of these campgrounds lack the human basics like hooks to hang clothes on, benches to set your "stuff" on, shower curtains, rubber floor drain mats, etc, NO place to set your toiletry items while at the sink. Sorry but becoming a huge pet peeve of ours. Park Management should be forced to go there and take a shower and try to shave, etc.. Changes would be made. We did use the laundry facilities but had lots of issues with the machines and got the run around on getting our money back – they need a better system.
The scenery all around us was great, lots of pines for shade and the spacing of the sites was fine. There's a large swim beach near the boat launch that is no doubt very popular in the summer months. There's a few brand new sites that seem to be very well done.
Below is pictured John and Melissa Freeman from Toad Suck, Arkansas. Their little dog is Harley. They were happy to tell us about their hometown and what a cool little place it is.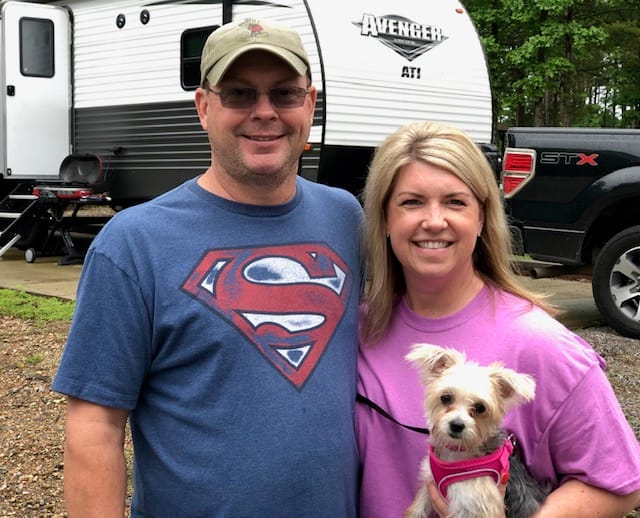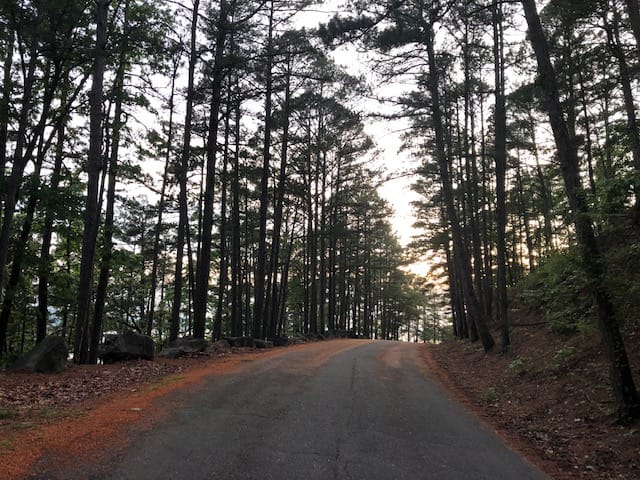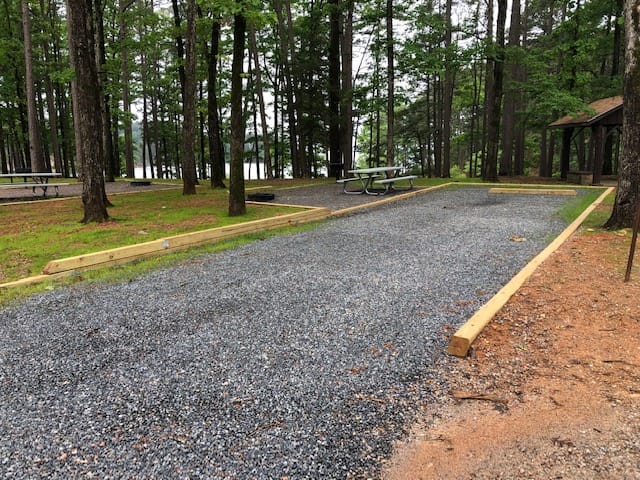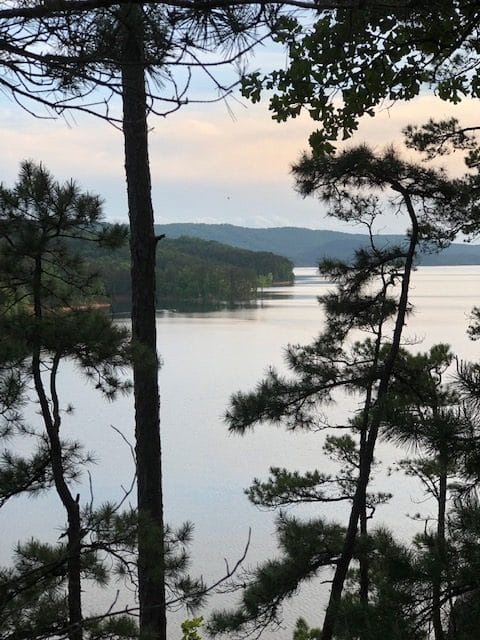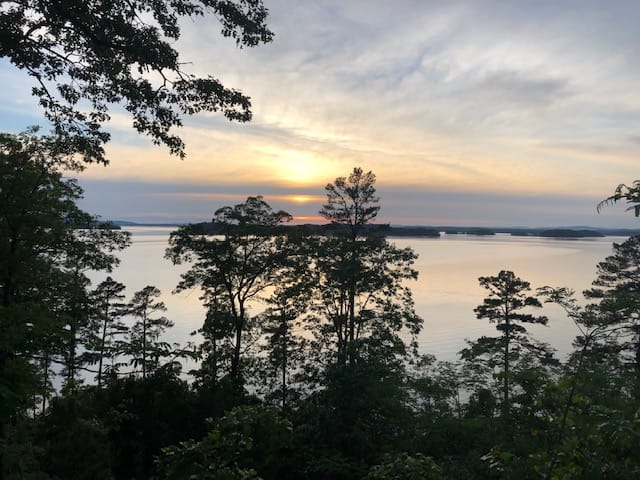 The park is a good 30 minutes from Hot Springs that we visited and really enjoyed our side trip there….see our earlier post – Hot Springs
We're very quick to recommend this very nice campground to our readers. Roy Brown and his wife Faye will make you feel right at home! We'll present this park with a 4 Pickle rating!
Brady Mountain Recreation Area – 1320 Brady Mountain Overlook, Royal, Arkansas 71968 (501) 760-1146
Like this Post?
Click to give it a thumbs up!