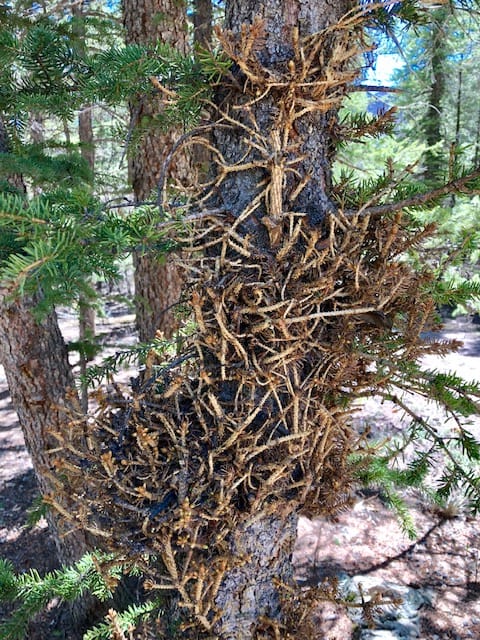 22 Jun

Witches Broom

We continue to try and educate, inspire, and amuse our friends and fans out there… this vagabond RV/camping lifestyle has presented so many moments to share that this editor is often perplexed about what to share and write about next…currently I've got photo files for six more reports on a host of locations/subjects – its been fun.

Today, this reportage will be another microblog but I felt it was worthy of sharing and passing along to you.

Our followers from the Southeast know too well about all kinds of scourges that kill or harm our lawns, vegetation and trees – we spend tons of money trying to battle blights, fungus, mistletoe, Spanish moss, dollar-weed and a boatload of other things like fire ants, brown recluse spiders, etc. I believe you get my point here…

Out West they have been fighting the bark beetle, raging forest fires, deforestation and pollution just to name a few.

Recently we came to learn about another little known problem attacking the fir trees – the common name is Witches Broom and the more formal reference is Sphaeropsis Gal. It's a nasty fungus that cripples an otherwise beautiful and healthy tree.
Its a damn ugly mess when you finally are able to spot it and can then more quickly identify the tangled gnarly twist of branches – yes resembling perhaps what a Witches Broom might look like.
We learned about it quite by accident from the volunteer camp hosts, Doris and Ted that we met at Thirty Mile Campground in South Central Colorado. They noticed it while visiting our camp site and told us what it was. The current Mrs. and I decided we'd take some time and whack at a few trees that were impacted by it and try to save some from the nasty grip. Apparently pruning is about the only way to "break the spell".
After trying a couple of different methods we determined that a sharp axe with a downward motion perpendicular to the affected tree could take it out.
Assuming all that read this will clean up a few trees when/where possible it would be a good thing AND give you reason to celebrate around the campfire with a fav beverage! We salute YOU.
Like this Post?
Click to give it a thumbs up!