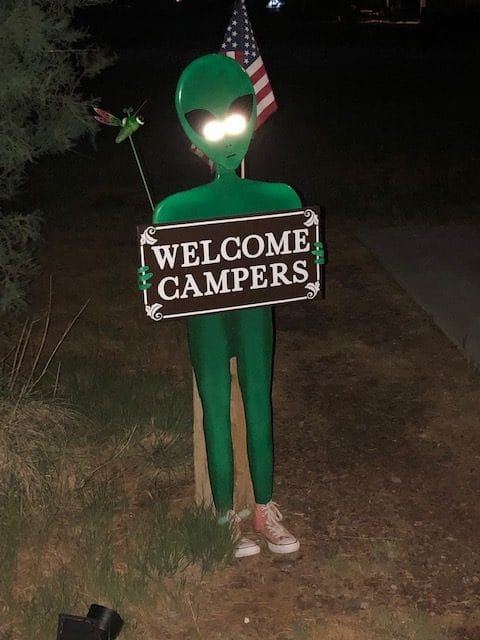 04 Jun

Unidentified flying objects

The with resurgence of interest in UFO's especially with our government now admitting they have been tracking and watching unusual phenomenon for decades we just didn't want to miss a visit to Roswell, NM

We discovered a NM State Park that sounded interesting and upon reading up and checking out their website, Bottomless Lakes State Park was located only about 30 minutes SE of Roswell so we took a chance with no reservations (preferring to fly by the seat of our pants) and see if we could get in for 3-4 days.

Upon arrival we learned the place was pretty full but we found a pull through for one night with water and electric only – it was site number 25. After day one – we moved over to site #11 which was a back in site that had water and electric also. Both sites were pretty nice overall. Fairly level, roomy and each with a covered shelter, picnic table and grill. 32 RV sites in total and only six had full hook-ups.

This park is very popular in the summer with the big bottomless lakes. The lakes are old sinkholes with springs pumping a constant supply of salt water into the main basin. The water is clear with a constant water temp of 74 degrees. The camp host folks, Kevin and Rita were nice and helpful.

The main feature of an otherwise dry dusty pile of rocks is Lea Lake right at the edge of the campground. It is one of the major sinkhole lakes with a nice big shoreline beach area but no fish. Kinda cool is the adobe style picnic shelters along the beach area where you can take over a lunch and cooler and hang out for the day.

We did get into Roswell and checked out the Roswell Museum and Art Center it was very well done and we enjoyed it. We also went over to see the International UFO Museum and Research Center. That was a real disappointment as there was not a shred of evidence or anything from the actual UFO crash site. Just a bunch of stupid displays and photographs. Fortunately, the cost is only $5.00 so it was about worth that amount.

While we were in town touring around there were wildfires that were growing in size and moving close to the campground – when we arrived back – they told us we had to leave and that no one was allowed to stay the night…they gave us 20 minutes to hitch up if we wanted to leave….we did just that.

So long to Roswell, NW and off to the next stop on the adventure!

Bottomless Lakes State Park – 545 Bottomless Lakes Road. Roswell, NM 88203 (575) 624-6058 Visit the website
Like this Post?
Click to give it a thumbs up!