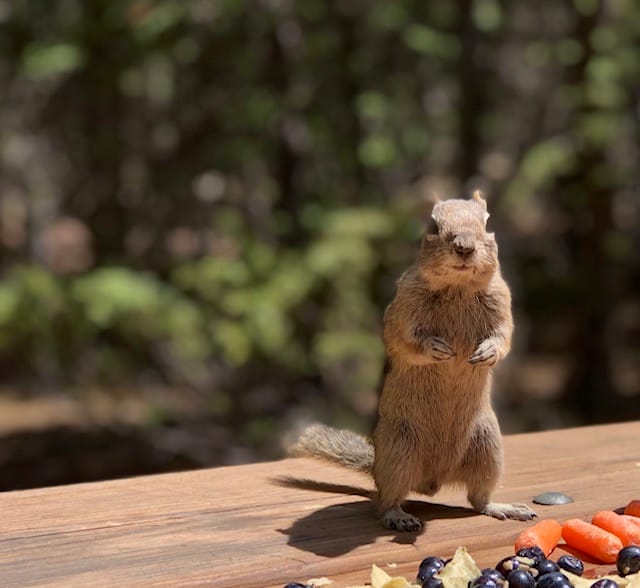 01 Aug

Thirty Mile Campground – Wow!

It happened quite by accident….we had to evacuate our campsite due to threatening high water on a section of the Rio Grande River that wasn't controlled by the water management systems. A new friend that we had just met the day before was telling us all about Thirty Mile Campground so we headed out North about 24 miles to see how we liked it. We didn't like it. We LOVED it.

The name of the campground refers to the fact that they are located thirty miles South of Lake City, CO. and thirty miles North of Creede, CO. Its a National Forest campground which gives us a 50% discount on the fees so we only had to pay $11.00 per night but no services other than potable water stations and vault toilets. So we just went about our business in the boondocking fashion.

We found a terrific site that was a pull-through and was clean as a whistle and roomy. We opened into a nicely forested area lots of big Spruce and Aspens with large boulders, finely crushed gravel afoot, a fire ring, and picnic table. There are sites right on the river which we were told is incredible but for 2-3 nights no problem but longer it gets tiring listening to the constant flow of the water. As an old fart, this did not appeal to me cause I'm already having to "go" enough! Damn it.

We were there June 8-13 and the weather was chilly during the evenings/mornings but ok for hiking and exploring during the day. Its a beauty for walking along the river, hiking on the trails and just walking around the big campground loop. They offer 35 camp sites and 9 are pull-throughs. Open only May 24-Sept. 15 and pets are fine just have to keep then under control…we walked Pickle every day no leash and had no problems. 14 day maximum stay is in place here.

There's excellent trout fishing when the waters "right" not flowing too high, etc. folks canoe and swim in the river too but waters are very cold! We saw lots of wild game, mule deer every day, a huge mama moose and her two offspring. The moose family were always "around" to enjoy at a distance. One day while walking we walked right up on them when rounding a curve in the road. We stopped right in our tracks and walked backwards slowly until we were well away.

We loved the friendly little chipmunks and the birds that would visit our site…

Here's our little friend coming up looking for his peanut:
Directly across from the campground lies the Weminuche Wilderness which is the largest wilderness track in all of Colorado. Back to the river for a minute…I was talking to a new friend Jim Reese from Enid, OK – he and wife Nancy have been at this campground in the past and he showed me video he shot of the river the previous year….gin clear water and trout running all up/down in the river where now its flooded and murky. When seeing this we vowed to come back for a couple of weeks next year!! Jim was sporting a damn fine mustache…way cooler than mine. (images are all clickable)
Go to Reservations.gov to book reservations early as there is solid demand. We did notice lots of free dispersed camping all along the route to this campground…its several miles in off the main highway.
There are 4-5 water spigots scattered around for toting water to your RV, no dump station so you'll have to manage your waste. We ran our ginny for a couple of hours each morning and early evening as we can't live without Fox News and staying on top of world events. This also allowed us to have fully charged batteries for using during the day. Gas, propane, and other basic needs can be found back on the main highway a couple of miles to the south.
The camp hosts were very nice and helpful and took real pride in keeping the sites in tip top condition! BTW – Load up on firewood at the sawmill a few miles North of Creede – you'll get your moneys worth with as much or little as you need. Pickle has decided to give this campground 4 1/2 Pickles! Five for sure if they at least had water hook-ups.
Thirty Mile Campground is excellent for a few days of primitive camping and really cuddling up with Mother Nature. Go if you can.
Thirty Mile Campground – Visit website here