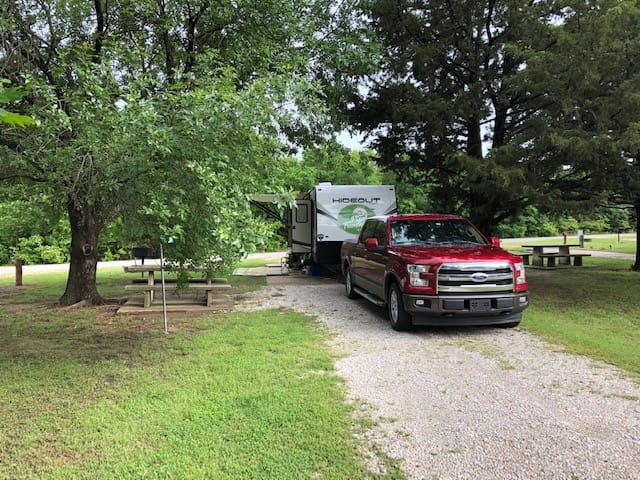 26 May

The Full Monte

Very few places can match the sheer volume of fun and activities that can be found just outside of Ardmore, OK (South Central part of the state).
We cruised through Oklahoma with eyes always on the skies for any signs of tornadoes but mostly focused on gusty winds that might cause us undo stress. Nothing is worse for our traveling along pulling our 31′ camper than high wind….it's scary as hell and so unnerving. Its a case of white knuckles until you finally give up and stop or reach your destination.
The winds during our drive on this part of our trip were fine – no worries at all. We were in this area of the state May 8-11, 2019. At the time of this reportage (May 27th) we've been watching the news about the tornado devastation back in OK and as we sit here in New Mexico now and feel terrible about the misery taking place back there. When we did get settled into our site only a few hundred yards off the lake – the winds were clearly blowing….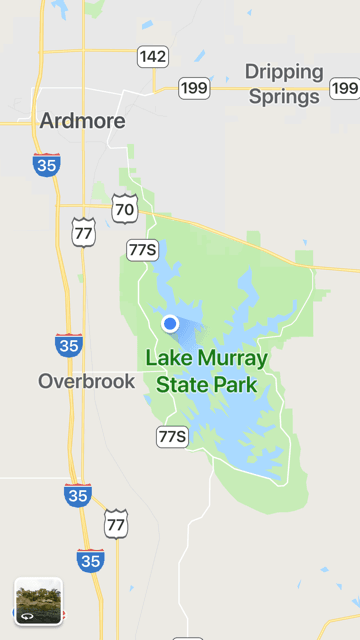 Our destination was the Lake Murray State Park – its huge. Located just off Highway 70 only minutes away from Ardmore then up a road marked 77S to the park entrances. I say "entrances" cause there's many campgrounds to choose from each with pros/cons depending on your recreational plans. We picked out a nice pull-through site with all services in Elephant Rock Campground for three nights and the total cost was $69.00. Most of the RV camping sites are on the East side of the lake on the route stated above.
We strongly recommend that you go on-line and check out the website with maps about the many various campgrounds within this state park –http://www.lake-murray.org/state-park/
Lake Murray is a sparkling clear spring fed body of water covering 5,700 acres and the entire lake and all shoreline is contained within the state park. The park encompasses 12,500 acres of course including this huge lake. The park offers just about every possible amenity like: tent camping, RV camping, boating with boat ramps, boat rentals, horseback riding, hiking with over 30 miles of trails, biking, golf, swim beaches and very cool floating cabins! The cabins can accommodate 2 people up to 18 people and look like tons of fun!
Fishing on the lake is very popular for largemouth bass, walleye, channel cats, white bass and spotted bass.
Like most lakeside campgrounds you can often get water, electric and sewer hook-ups but the sites on the water will almost never have sewer connections for obvious reasons. There were many families all camping together and sharing meals and lots of laughs all around us and made us long for our family.
Pickle had a great time and is giving this OK State Park a nice 4.5 Pickle rating! Well worth a visit if you want to plan a visit to the beautiful state of Oklahoma.
Lake Murray State Park – 13528 Scenic State Hwy 77, Ardmore, OK 73401 For reservations visit: https://www.gocampok.com/campground/app/index.php
Like this Post?
Click to give it a thumbs up!