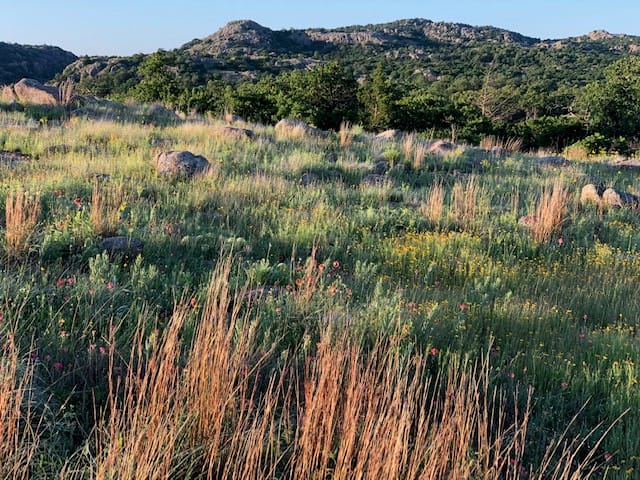 01 Jun

The Epitome of Wild and Crazy
PipesTraveler Rating:





Trust me when I say I KNOW wild and crazy. Over my life, I've seen both on many occasions in my personal and professional life. Also wild and crazy occurs in the fishing, hunting, camping, etc. realms. I'll explain more in the reportage to follow.
Liz and I were combing all the sources we use to find another camping venue further on up the trail. We look at state park websites, the Corps of Engineers site, apps on our phone like: RA Camping, RecGovCamp, and ALLSTAYS. As we typically do we start throwing out ideas to each other and we could go in just about any direction….how about this or that, I think we should go here or there. Never an argument but fun exploring places to go. In doing this, we found a place that just sounded perfect or us to go and explore.
Wichita Mountains Wildlife Refuge. A wildlife refuge? Really? This sounds like something you hear about in Africa or like an animal rescue place, etc. We learned that there's quite a few spread out across the U.S. We've since visited and camped at two of these such places….one vast and unbelievable the other was embarrassing to call it a wildlife refuge.
We tried to book a reservation for a campsite but it was only first-come, first-served at Doris Campground within the incredibly, awesome, unbelievably outstanding Wichita Mountains Wildlife Refuge. We learned that you don't go there for the great campground cause its not. Doris Campground is the only campground within the vast 60,000 acre refuge. Its a very basic camping experience with a few sites offering electric service but none with water or sewer connections. The individual site are close and well worn. The sites are also not very level but there are some blacktop parking pads in place. There are five camping loops A through E – we were assigned E-55 an electric site but it was an absolute pain trying to back our rig into the site. The site was slightly uphill with a slight turn on a curve in the roadway and just wide enough to fit our 31′ camper.
Following a few cuss words and choice words between the driver and the driver assistant, we finally did manage to get the camper lined up to go into the site properly. Before we got unhitched a very nice camp neighbor came over to ask if we got watered up before we came to the site? He was being helpful to let us know that there was no water supply on the site. His name was Jerry White, a retired Southern Baptist Pastor from Ninnekah, OK. He was traveling with his bride EmmaLee. They have traveled for 50+ years in their camper and have been in every state and across Canada. They were camping with friends from their church the Jeff Tolman family…such a nice friendly group to camp with! God's children in a very Godly place.
We were only at this camping location for two nights…May 11-13, 2019 had great weather and the cost for the two nights totaled only $20.00 The park is managed by the US Fish and Wildlife Service and with our National Parks Pass we got a 50% discount! Since we were only planning to be there for the two nights, we were up early and out late both days trying to really capture the whole area as best we could….hard work being travel reporters!
Driving through and hiking in this incredible place was just a thrill. We saw such interesting scenery and the wildlife was abundant. Of the entire 60,000 acres only 24,000 is accessible to the public as the balance of 36,000 acres is off limits and set aside for wildlife including their top four animal species. Their focus….Original lines (seed stock) of Longhorn Cattle, American Bison/Buffalo, Whitetail Deer and Elk. The refuge is one of the oldest and most prestigious wildlife refuges in the United States. 18 hiking trails from 4/10 to 8 miles ranging from easy to difficult. The Visitors Center is fantastic with some great displays and nice gift store. Check out this hilarious video of our strange encounter with a rogue bull Longhorn here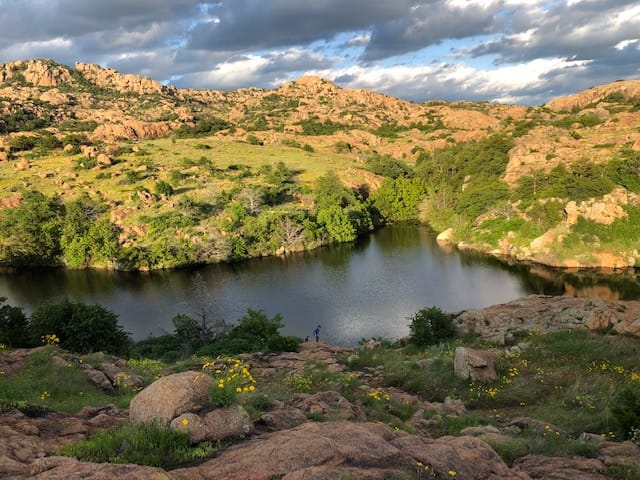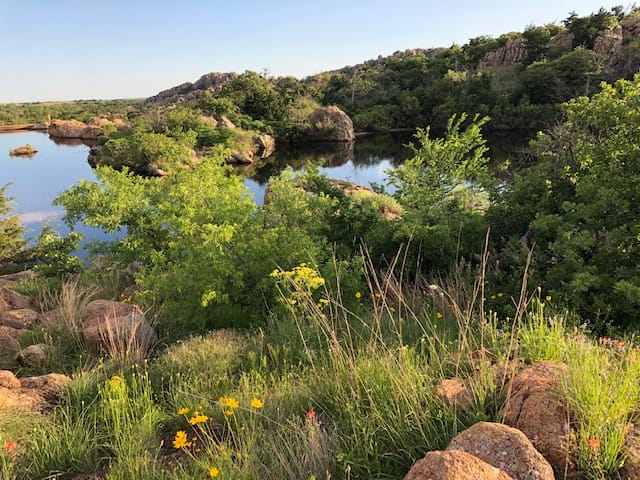 If you like photography this is your place! While out one early evening capturing a time lapse sunset we had the good fortune to meet Kim Jones Issac a Pro Photographer….she's got some awesome "stuff" right here
When I referenced wild and crazy earlier…I was referring to what we witnessed while visiting this refuge. The first was the huge Rio Turkeys that would come up to meet you, then a coyote we saw that was crossing the road in front of us – he trotted across slowly and stopped right next to us and allowed us to watch him, later we came up upon a bison that was in a family picnic area. The big beast didn't seem to bother the children that were playing within 30 yards of him – he could care less about us watching and photographing him from a safe distance….we then had that crazy encounter with the Longhorn bull that we heard about 100 yards away bellowing for "company" he came out into the road and walked right past us.
As always we circled around the whole region like buzzards on a fresh roadkill – one day we visited the Meers Store and Resturant in Meers an unincorporated area about 20-30 minutes away from the campground. They are known for serving huge Meersburgers made strictly with Longhorn beef – amazing taste. Worth the trip for the meal but the restaurant needs to be condemned. In and out it looked like a decrepit unsafe building. Parking was terrible too. We had to sit outside with Pickle and the area was close to the dumpster on filthy concrete slab with picnic tables. Never again – get it "to go". Now having disparaging remarks a plenty – the Meersburger was unbelievably delicious.
The wildlife in their natural habitat was such a joy to see. We saw wild Rio Turkey, Elk, Coyotes, Whitetail deer, Longhorn steers and huge Longhorn bulls, Antelope, Prairie dogs, and Chipmunks. The turkeys hang around the campgrounds and are used to us humans….I fed one early one morning right out of my hand….damn big birds…almost scary! Video here
Overall we loved this place and will plan to come back someday. Such a treasure for Oklahoma and the nation to enjoy and experience the beauty of wild places. Doris Campground gets a 3 Pickle rating but the Refuge gets a 5+ Pickle rating. Amazing place and we strongly encourage our readers/fans and friends to visit.
Wichita Mountains Wildlife Refuge & Doris Campground -32 Refuge Headquarters, Indiahoma, OK 73552 – 580-429-3222 Visit Website
Like this Post?
Click to give it a thumbs up!