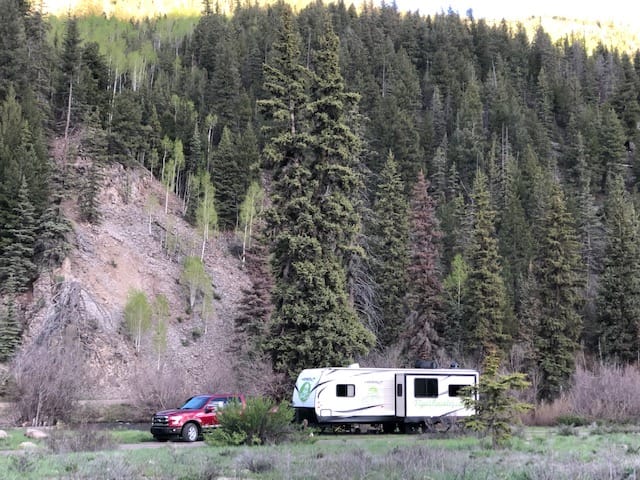 28 Jun

The Donkey Dash and Marshall Park Campground
PipesTraveler Rating:




We heard from a food truck operator (we trust reliable sources like this) that the annual Donkey Dash was scheduled to be held in Creede, CO within the next few days so we took an immediate "stage left" and headed that way from our current location which was a few miles outside of Alamosa, CO.
The event sounded like it would be fun and we'd never been to Creede so let's go check it out!
From Alamosa to Creede was only a bit over an hour away and located in the Rio Grande National Forest we started seeking out National Forest Area camping sites. We choose to see if we could get a site for a couple of nights in the Marshall Park Campground as it sounded perfect and only about 20 minutes drive to Creede. Be sure to click on the pictures so you'll be able to enjoy them better….I paid a few extra $$$$ for this nice capability.
The fishing here was reported to be great but with the very high flow and this section was not controlled at all – we were not able to throw any flies.
We pulled into the campground and it was about empty…we saw the camp hosts set up and maybe two others in the entire campground. We stopped and met the camp hosts….Rod and Cindy, they were from Maine and couldn't have been nicer! They pointed out a terrific site for us right on the Rio Grande River! Only $9.50 per night but no services just a vault toilet and potable water source. We had planned to stay for two nights June 7 & 8 but upon returning from Creede Rod/Cindy advised us that the river was rising too fast and was expected to flood late the next night and that we'd better plan to find another spot for the second night.
We enjoyed the time on that site, visited Creed and attended the Annual Donkey Dash event….loved it! The scenery at the site was awesome and we vowed to come back for a longer stay in the future. There's a lumber mill between the campground and the drive back into Creede. The owner was such a nice guy and happy to sell you $20 + of firewood. Here's a cute video for you!
We'll be reporting next on Creede and the Donkey Dash event but wanted to do a separate report on this campground as we know folks might want to have this info!
Marshall Park Campground, Creed, Colorado 81130 Recreation.Gov
Like this Post?
Click to give it a thumbs up!