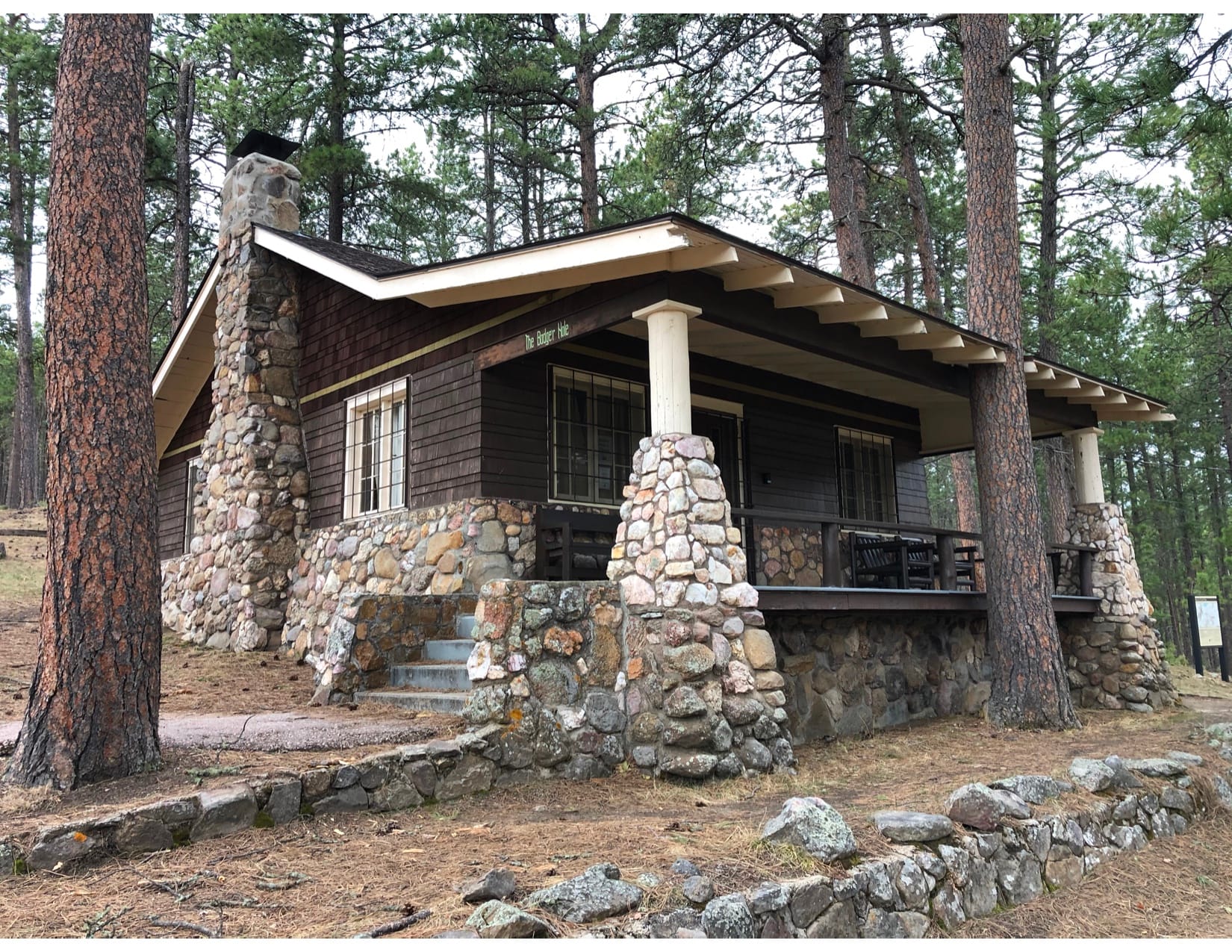 19 May

The Badger Hole and more

Hi Friends – Yes, I know its been a long time since my last post and there's no damn excuse for it. I'm learning that as I grow older the "rush" seems to fade. I'm sleeping late, going to bed early and will do most anything to get out of any chores. To say that I'm enjoying my retirement would be an understatement. Let me get on with this tale…

The "current" Mrs. Pipes is doing great and still up for most any adventure that arises…she's a fun travel partner and we both seem to throughly enjoy that wonder of whats around the next curve in the road. We've always wanted to get over to the Black Hills of the Dakota territories….South Dakota was the destination this time.

On our travels back west for this season we made a deliberate turn north after leaving Oklahoma and had other cool stops (upcoming posts) but the goal was get to the Custer State Park which lies to the northeast of Custer just a few miles. No reservations in hand but as our luck normally works out we found a perfect camp site after checking in with the friendly Camp Hosts. The Campground was Stockade North and part of the Custer State Park just not the premier campground…we didn't care as it met our needs for camping with our 30″ RV with scenery, picnic table, electric hook-up and nearby water source. Five nights should suffice to enrich ourselves with a real "taste" of the area. We always get into the site as quickly as possible set the "camp" unhitch the truck so we can start driving around exploring! Love pulling into places we've never seen, checking out the culture of these rural communities, meeting a few locals, finding the popular bar and cafe's.

If you've never been to Custer, SD its a wonderful small town with tourism as one of if not THE most dominate means of survival to the folks that live there. The housing in the area was pretty much campgrounds for families and RV'ers to use or rustic motels, lodges and such. I don't remember seeing any of the big chain hotels which is a huge plus to the visual appeal to the town. There are a few tourist related businesses that offer off-road rentals and shopping includes one of our fav places. The sign out front read: "Furs, Hides, Antlers" and it had so much more of interesting stuff to purchase…we did yes.

We had five full days of fun and decided we were gonna have to take a vacation soon! Haha – everyday is like a wonderful Saturday morning. We visited and saw all the "can't miss" places that included: Custer, The Crazy Horse Monument, Needles Highway, The Black Hills National Forest, Deadwood, Mount Rushmore, the town of Lead, and drove the amazing wildlife loop. Many many highlights overall and five days was necessary to do it right (according to Pipes')!

The title of this post is: "The Badger Hole and more" – I just gave you the "more" part. Within the Legion Lake area off highway 87 was a very unassuming side road (oh joy!) The road is just north of the lake and it cuts off to the right. Liz had seen something on the map simply marked: The Badger Hole. We were intrigued early on and had to see what it was. We laughed cause here at PipesPeak Ranch where this incredible story is being contrived we have Glory Holes, prairie dog holes, and Badger Holes. The glory holes are where the 19th century gold prospectors would sacrifice one stick of dynamite in various places then after the explosion they would dig in the hole for a day and either move on or set up mining operations depending of course if there was any "yellow" minerals in there. Our prairie dog colony is no doubt ancient with thousands of holes where these cute little critters pop-up and squeak to each other throughout the day. It's a dog delight out here. We remember our mini schnauzer Pickle came up on one of the Badger holes one day….the sound that came out of that hole was like some crazed beast from hell was about to emerge and attack with horror – Pickle was smart enough to make a quick retreat and we'll never forget that unholy sound. Speaking of holes….I sure went down one didn't I?

As we pulled off highway 87 we immediately had good vibes as the scenery was just as beautiful but now it seems it was just us – and it was the entire time we were learning the story and visiting The Badger Hole. Only 1/2 mile further and then a slight right turn took us to the parking lot and looking up we saw an outhouse along with a clever looking cabin. Of wood and local sourced stones THIS was the four-room cabin of Charles Badger Clark, Jr. that he built by hand sometime around 1937. He lived in a tiny one-room cabin nearby from 1924-37 while he built the larger home that he would live the last thirty years of his life in. Both cabins were located within the confines of the vast Custer State Park.

We walked the grounds and began to learn about the man that would become the 1st Poet Laureate from South Dakota. Charles lived a very solitary lifestyle and independent existence. We imagined what it must have been like during his early times living in such an amazing landscape wilderness. The wild game of all manner would have been abundant and in the early years not much interaction with civilization. Born January 1st, 1883 in Albia, Iowa he was brought with his family to the Dakota Territory where his father a Methodist Preacher would preach the gospel in the small communities like Deadwood throughout the Black Hills region.

As Charles' writings became known he became quite the local celebrity with his many stories, volumes and of course his poetry. His poetry reflected his love of the west and especially of the aura and allure of the Black Hills. His most admired volumes were: "Sun and Saddle Leather", "Sky Lines and Wood Smoke", and "The Cowboys Prayer". Most of his admirers felt his poem titled: "The Cowboys Lullaby" was his greatest inspiration left behind for all of us to enjoy and reflect upon. In his later years folks would visit the Badger Hole sit on the porch with him or inside by the huge stone fireplace and talk. He would become known as the most beloved American cowboy poet.

Liz and I walked the grounds, sat on the porch and had a gigantic sense of reverence for Mr. Clark and his Badger Hole. The surroundings were so well suited and remain the same as the day he died at the age of only 74 in 1957. This was a true highlight of our trip to the region and we hope you'll be able to do the same.