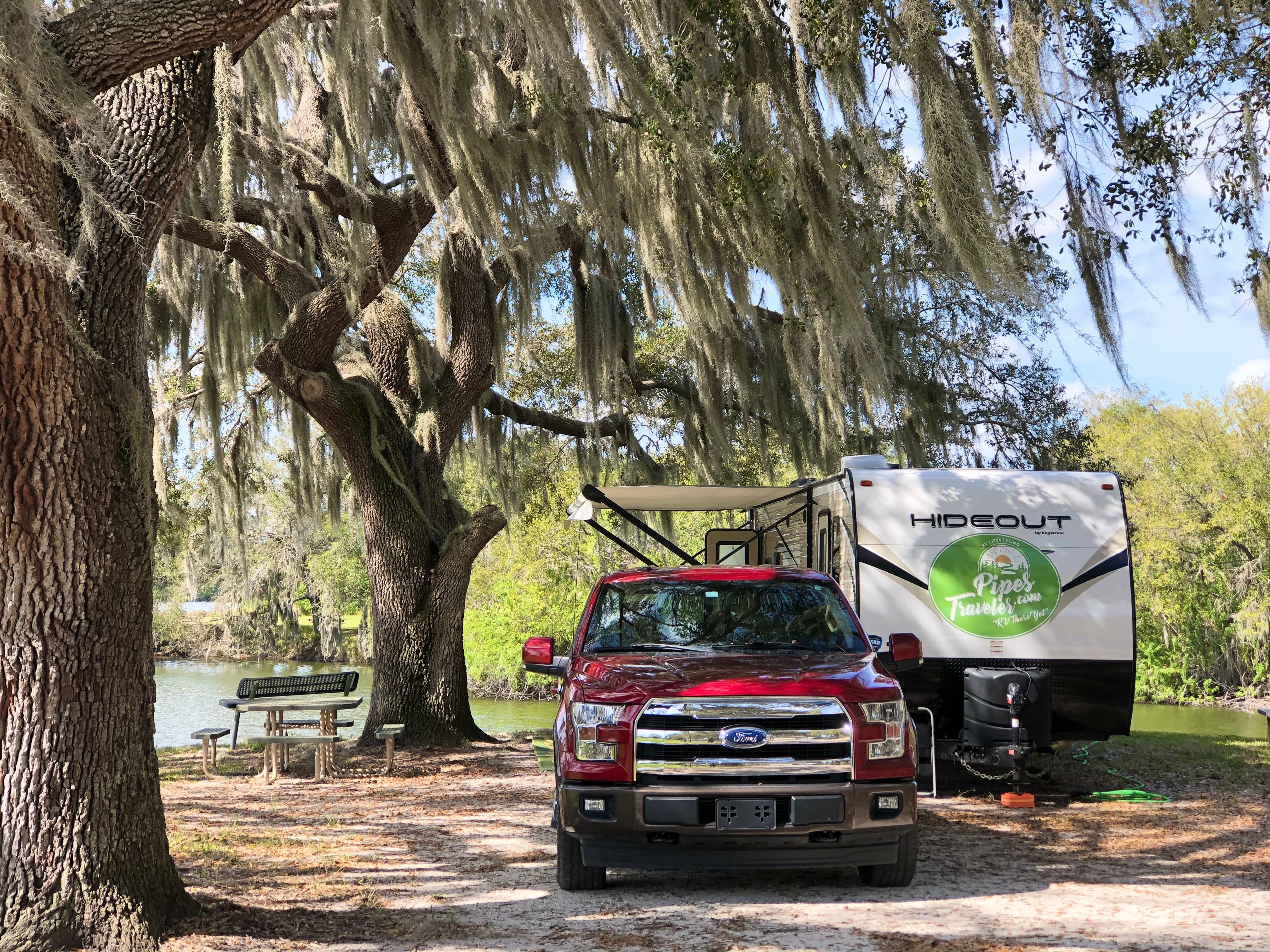 03 Apr

Saddle Creek Park
PipesTraveler Rating:



Not far from Bartow, Florida over between the towns of Lakeland and Winter Haven lies this 750 acre park that is well known to the local community for its fishing and picnic areas. The entire park is basically the remains of years ago phosphate mining and left as open pits and troughs filled with water and stocked with fish. I heard they have lots of tilapia as well as some bass and catfish. I did try fishing 2-3 times and used every possible fly pattern – I had with my fly rod and got not nary a strike.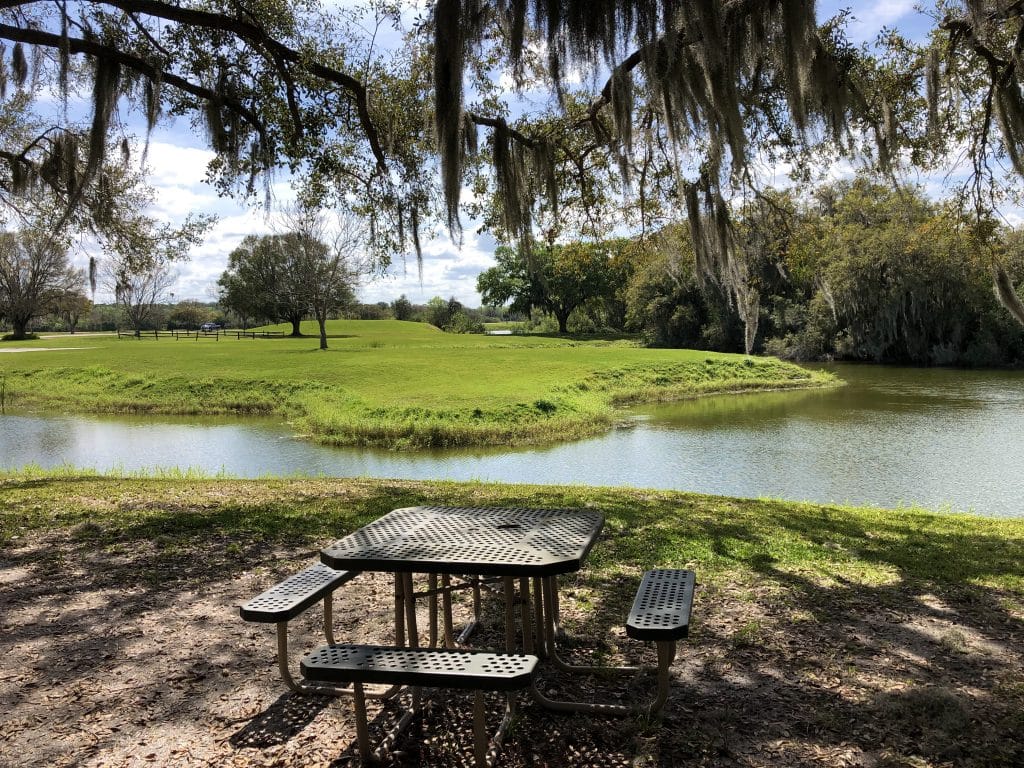 The online reviews about the park are mostly about the park as a whole and don't offer an opinion on the campground so my focus will be on that aspect for our readers. The overwhelming visits to the park are locals coming out to fish and picnic during the weekend and those folks aren't camping. The park does have a couple of boat ramps and hiking trails but the trails weren't anything special. The picnic areas were busy and seemed to be popular with bathrooms and playground for the kids.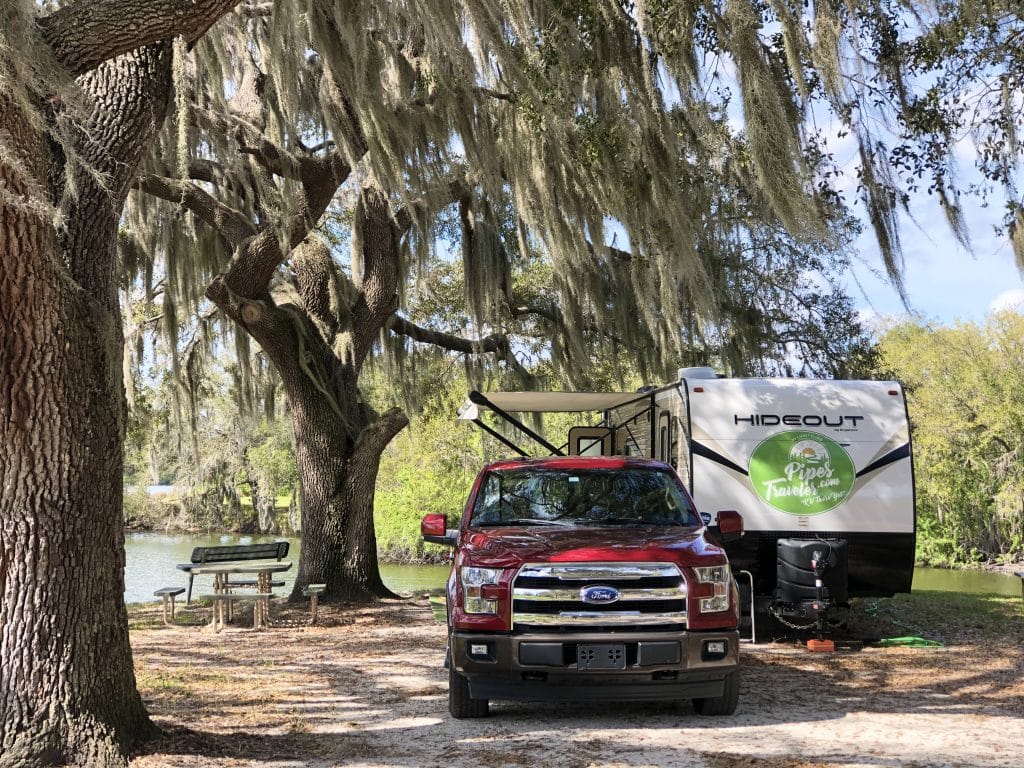 The park and campground are managed by the Polk County Leisure Services Department so the operation is a County Park not state, private, etc. As County Parks go I'd say the park as a whole is nice and sure seems to be well used. The campground on the other hand is poorly operated and is an embarrassment to me being a native Polk county resident.
We don't typically use private RV parks or county parks (just not the way we roll) but trying to stay somewhat close to Bartow this was one of the very few options we had in the area. We were looking for the basics, water/electric hookups and maybe some elbow room….found it here. The price was $20/day cash payments only directly to the less than welcoming manager. He complained that he'd been there for eight years and couldn't wait to get outta here. Here's a note to Polk County Leisure Services Department….it might be time for a visit?
The camping "community" for this particular campground was mixed and at times, we'd look around and it was downright a scary crowd. We had the sense that several folks were camping as the only way available to them to live. At times there were a few in tents and largely working out of their vehicles. When we first arrived there was a very old 5th wheel camper that had cardboard in the windows in place of glass and their trash seemed to pile up outside at their front door. We did see the sheriff visit a couple of times and after just a couple of days they were gone in the middle of the night.
The saddest part is that the campground had so much potential. The acreage set aside for the campground was along side the lake and amongst large oak trees with terrific shade. A pretty setting overall. Some of these pics will show you the beauty of the park setting. Maybe as many as 30 camp sites total and only 3-4 were out in the full sun. The maximum stay is 21 days which is fine if you have a nice mix of clientele but when you have a homeless population in with the RV'ers and actual recreational campers its not compatible. Perhaps we just need to stay away from county parks but I would hope not.
The bathhouse was appalling. Very old and outdated with more nastiness than cleanliness….we wouldn't dare use them. It was typical to most in that the management doesn't seem to appreciate the need for the basics like benches, clothes hooks, shelving, rubber shower mats, etc. The cost of going from nothing to a nice more residential environmental experience is so negligible and soo important that we just don't ever understand why its so rarely addressed.
Overall, we can only give this campground a 2.5 Pickle review – our lowest review yet. We've travelled extensively and seen a ton of different situations rewarding many 4 and 4.5 reviews – this place just needs attention.
Saddle Creek Park and Campground – 3716 Morgan Combee Road, Lakeland, FL 33801 (863) 413-2399 Website
Like this Post?
Click to give it a thumbs up!