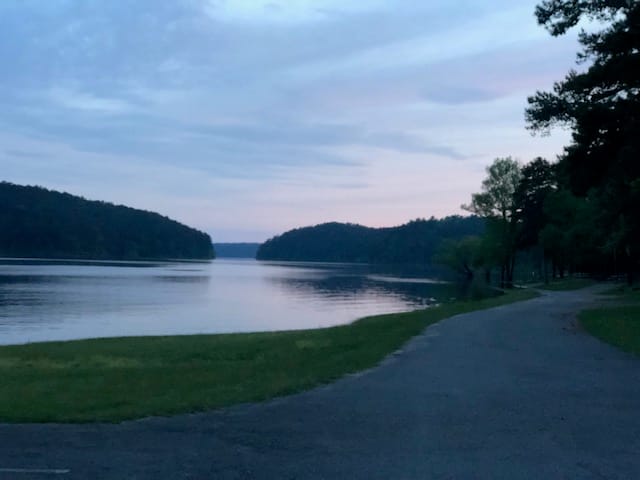 20 May

New Cowhide Cove Recreation Area
PipesTraveler Rating:





Seems we just keep stumbling on cool "hidden away" places to camp. This one turned out to be a really nice find for us and is way off the beaten path.
Our last camp stop in Arkansas before we crossed over into Oklahoma and I'll admit I was a reluctant voyager on this one. The road was just twisting and continuing on for about 3 miles off the main road and the directions were unclear as we rolled through the woods towards the entrance. Traveling down unknown roads pulling a 31′ camper is unnerving at times…nope don't like that.
So after a bit of twists and turns down the roadway we pulled into the New Cowhide Cove Recreation Area. Yes, there IS an Old Cowhide Cove Campground over on the other side of the cove. Of the two, we liked the New one much better. We were greeted at the entrance/office by a relatively new Camp Host by the name of Cecil Belt. Cecil was a big help in getting us into a great site that we really enjoyed.
Our site was designated a handicap site but there were no reservations for it and it suited us fine. We got into site #37 and treated it like a pull through cause it just seemed to be possible and a lot easier! The RV was actually parked on gravel/grass combo and we had a huge concrete patio with fire-ring, picnic table along with water/electric/sewer the "triple crown" in the RV world! Our new pal Cecil did us a solid by pointing us to this site.
The park was very nice and mostly perched up on a rise above a large cove on Lake Greeson. Roughly 50 sites of which 12 have all the hookups and the others had electric/water but now sewer connection. The park is one of thousands operated by the Corps of Engineers and is in pretty good shape overall. Bathhouse with showers and squeaky clean, gravel camp sites mostly level and decent spacing in-between.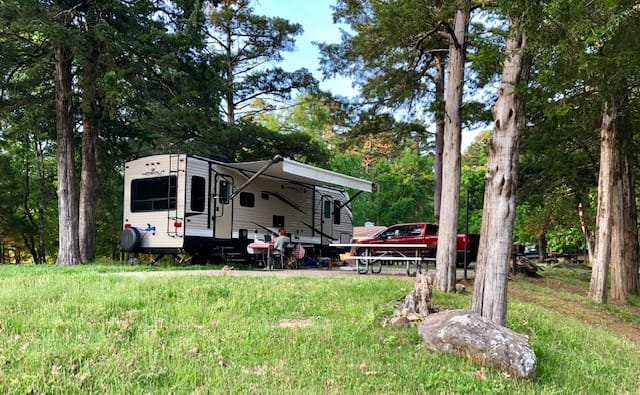 Now, whats the attraction to this park? We've come to understand that EVERY park has the proverbial "attraction" otherwise why would anyone come to visit? A river, ocean/beach, lake, trout stream, deep forest, cool town to visit, major national attraction of which any of these would work. This place is all about Lake Greeson. The lake was formed by the Narrows Dam which dams up the Little Missouri River and resulted in the 7,000 acre lake. The tail-waters of the dam is the continuation of the Little Missouri River which is an above average trout fishery holding rainbows. The main lake is known as an outstanding fishery for largemouth, smallmouth, striped bass, catfish, black and white crappie just to name a few of the species. We caught fish everywhere. We served up the entire campground one night with a huge fish fry. That last sentence is a lie.
Our dates for this visit were May 4 out May 8, 2019 and at $10/night our bill was a cool $40. Love these camps where we get the 50% discount with our National Park Pass. We had a really nice and relaxing visit for the four nights and enjoyed the fishing and walks. One day we went into Murfreesboro which is the closest town 11 miles away. Neat little town to visit and fished the tailwater of the dam later in the same afternoon. Flow was high but not impossible. Caught three small rainbows on elk hair caddis dry flies.
This campground gets a 4.5 Pickle rating! Go spend a few days there soon and say hello to Cecil for us.
Cowhide Cove Recreation Area – 239 Cowhide Cove Road, Murfreesboro, AR 71958 (870) 285-2151 Here's a link to their website.
Like this Post?
Click to give it a thumbs up!