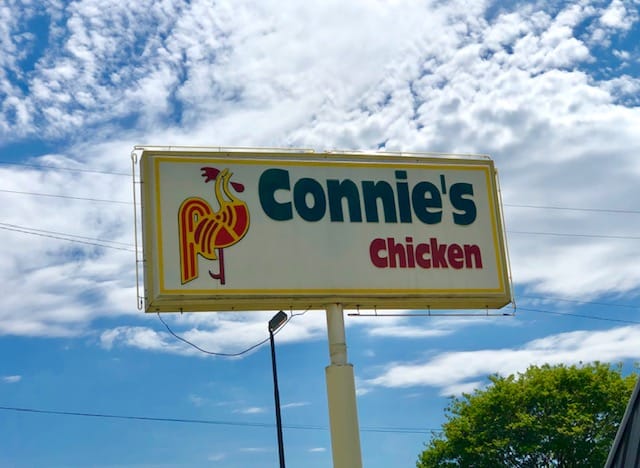 25 May

If there was Fried Chicken in Heaven

Whilst our exploring the town of Tupelo, MS – we were tipped off about a great place to have lunch! You see, as we're traveling around the country the typical fast food restaurant just won't do – we seek out the places that everyones talking about, places like Connie's Chicken.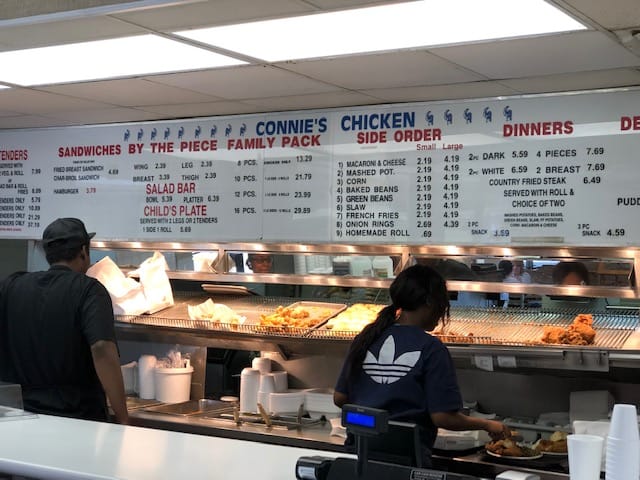 As usual we have to get creative with our mascot Pickle cause we just won't leave him in the car unless the weather is cool and safe for him – on this day it was not. I parked along the side of the restaurant and went inside to see if there was any way that we could bring in our 4-legged gentleman so we could have lunch. The young lady at the counter kinda looked around and gave me the silent nod with a smile.
We came on in and found a booth in the back corner of the restaurant and placed Pickle on a big towel along with one of his fav long-lasting treats. He did great!
We ordered up fried chicken, biscuits and fries topped off with their incredible blueberry donuts. The whole meal exceeded our expectations – I'm salivating as I write remembering this lunch. The chicken was crunchy, drier on the inside but not dried out or over cooked. It was perfect. Much of the fried chicken that you can buy at other restaurants is over seasoned and greasy/wet. We found this chicken at the top of the mountain…kinda what you would expect – IF THERE WAS FRIED CHICKEN IN HEAVEN.
The restaurant was very clean, the staff were friendly and welcoming. We had the good opportunity to meet a fine fellow that is one of the two sons that inherited the business from their dad Constantine aka "Connie" as everyone knew him. Jay humored me by allowing me to video him telling me about the business – I later posted that video on our Facebook page – https://www.facebook.com/watch/?v=372564230031845
If you go to that link please "like" our page while visiting…. thanks.
Jay told me that his dad started Connie's Chicken back 40 years ago and sure struggled for many of those years but now the name is iconic in the region around Tupelo, MS. He says that lots of folks come by just for the blueberry donuts as they're so popular and delicious – agree on this! Jay and his brother run the business much as their dad did and since they both worked long hours with their dad (then and now) they learned the do's and don'ts. Jay continued saying that its very hard keeping and hiring team members cause the unemployment is so low these days and he both praised and hated President Trump for this! He told me that he's so proud that they've had the very same biscuit maker with him for 38 years.
While in the restaurant a fellow came over and introduced himself to us and just wanted to meet us. He's a long-time and loyal consumer of Connie's Chicken! He grew up right in the same neighborhood as Elvis Presley there in Tupelo and loved living and working there. His name is Hilton Peters… a great guy! See the hilarious video I also posted on FB with him. https://www.facebook.com/watch/?v=380874675850026
Hello Hilton and we hope your dogs; Cricket, Hemingway, Dixie and Suzie are behaving.
If you're ever in Tupelo, MS or within the 50 mile radius…take the drive over for this fried chicken….the Colonel should have been ashamed to call his chicken chicken.
Connie's Chicken – 821 S. Gloster Street Tupelo, MS 38801 – Call em' @ (662) 842-7260
Like this Post?
Click to give it a thumbs up!