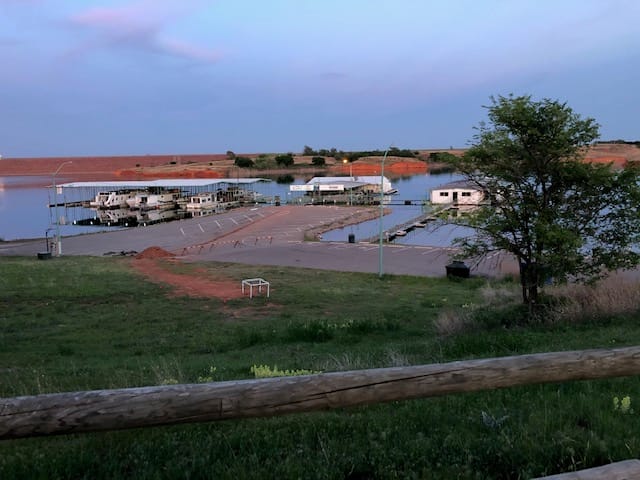 07 May

Foss State Park
PipesTraveler Rating:





Oklahoma is a damn long state to drive across! I'm so glad we didn't drive all the way through the upper part of the state through the panhandle cause that's another day.
We had so much fun in Pawnee, OK with friends Jim & Nancy Reece and then continued across the state to this awesome State Park! Traveling across the country like we've been doing for a couple of years has given us a very unique perspective of camping options. There's certainly many terrible places out there mostly the private parks but some county parks have disappointed us as well.. Its really important to do your homework and read the reviews before you drive out of your way.
This park is an absolute winner! We arrived in late April 2020 for a two-night visit and only called them the day of arrival. The nonsense with the Covid 19 was still in full swing but the park was open and had good availability for us. Due to the popularity we got very lucky – better book several weeks in advance to ensure you'll get a site.
From the first phone call through check in and departure we were very pleased to experience one of Oklahoma's finest State Parks! The campground was immaculate and ran right along the shoreline of the massive Lake Foss so the views and breezes from the lake were super.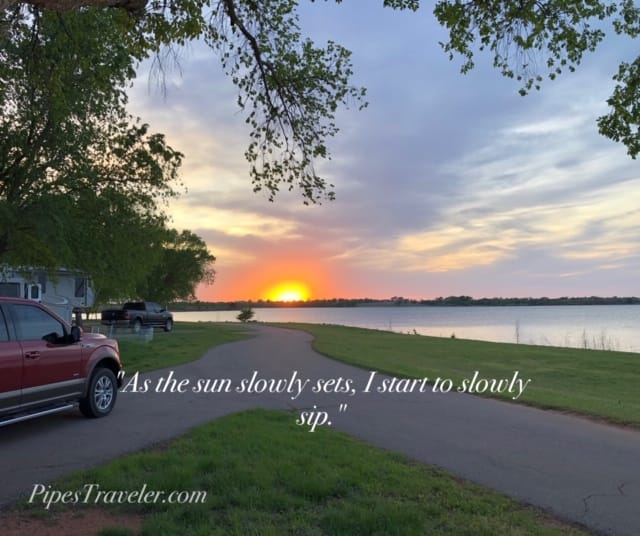 The park is located not too far off of I-40 that runs all the way across the state but because of its remote location, I'm adding in 3 maps to show you the spot but think western Oklahoma.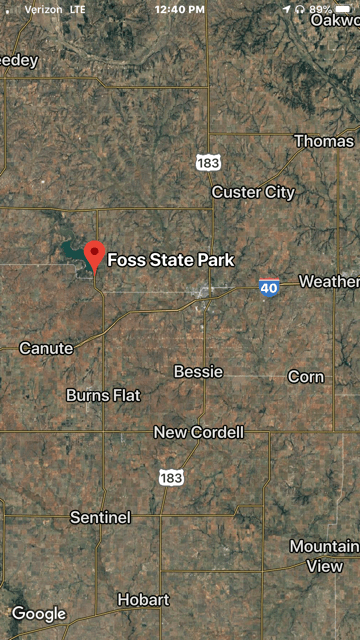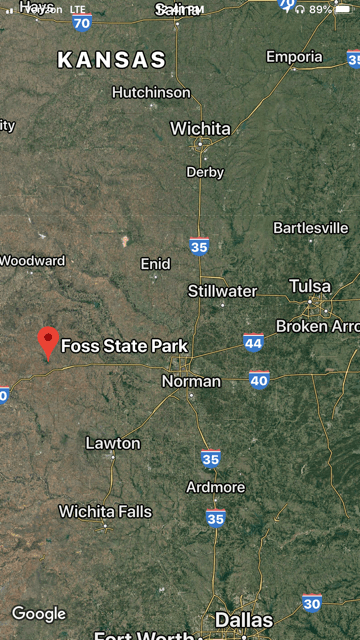 Foss State Park encompasses over 1,700 acres and offers up a very full complement of activities to enjoy. The list includes: fishing, boating, marina, horseback rides, hiking, swimming at the cool beach area, disc golf and of course camping. The camping is for RV's of all sizes and plenty of tent camping.
There are six RV camping areas offering 108 total sites all with water/electric with both 30/50 amp service and ten sites with full hook-ups. We stayed in Cedar Point Campground where there was 15 sites. The sites are mostly all pull-throughs with terrific lake frontage. The pull through that we had was perfectly level and paved with ample room for outside comfort with fire-pit and picnic table. The spacing between the RV sites was ideal. While there was not sewer hook-ups like most others there was a convenient dump station on the exit route from the park.
The nightly rate was $33.00 and for the high quality of the experience it was priced just right!
We're awarding this park one of our highest ratings of 4.5 Pickles! If you're ever in this area of the county – we'd strongly suggest you give it a visit.
Foss State Park – 10252 OK 44, Foss, OK 73647 (580) 592-4433 Website
Like this Post?
Click to give it a thumbs up!