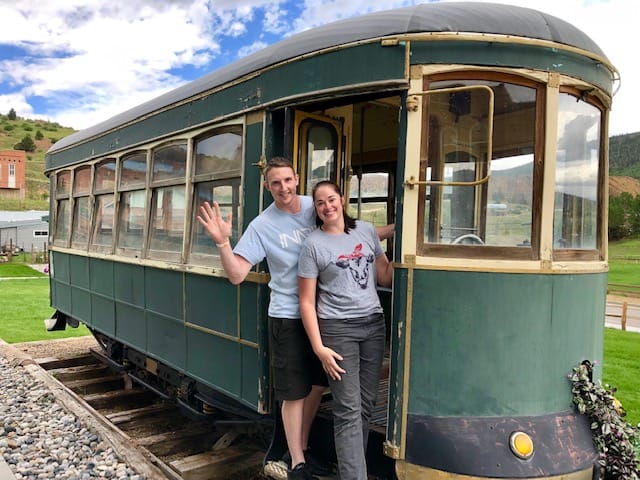 23 Oct

Colorado mining towns

Over many years of living and visiting Colorado, we've come to really enjoy the history and joy of visiting the tiny mountain towns of Goldmine, Victor and of course Cripple Creek. Note: Focus on this post and all the photography is featuring Victor. The main blog post photo is of our son Matt and his GF Lauren… we throughly enjoyed their company on this trip!

Back in the late 1800's and early 1900's the mining district in that general area exploded with growth similar to the Gold Rush era of California. The "district" as it was referred to during this time in history produced over $10B in gold value based on current gold prices.

The town of Victor had upwards of 10,000 residents and damn near as many saloons! Today the population is a mere 400-500 hearty souls still managing to scratch out a living. I believe theres only two or three places to get a drink and only 1-2 spots to eat. We enjoyed the historic Victor Hotel's F&B and hospitality.

Back twenty years ago we bought ten acres a few miles due west of Cripple Creek and even back then, we loved driving over to Victor to explore the old buildings and mill around in the old dusty stores. We've also rambled along the many back roads like the Shelf Road (scary as hell) with the long steep drop-offs and no guard rails, the long and twisting road over to Colorado Springs on Gold Camp Loop Road.

Honestly, all three of these towns give you an experience of being lost in time, but Goldfield and Victor never got the gaming approval so they are just barely surviving as has been the case since 1925. Cripple Creek has nine casinos and the full gaming licensing so its doing "ok" not exactly thriving at this point due to the remote location and lack of a viable population base. Nonetheless we love it. One of the casinos offers a .59 (cents) breakfast along with mostly low stakes gaming. Shopping along the main drag…Bennett Ave. is fun with a nice variety of totally unnecessary items to spend good money on.

We made friends with one of the owners/bartender at the Victor Hotel where they serve up a nice but limited selection of draft beers and cocktails and will often have the smoker going for ribs, beef/pork dishes. Great place to visit and relax with friends and family as we did.

There's a good selection of hotels/motels in Cripple Creek and while there is 1-2 RV Campgrounds – we don't recommend either of them. Let us know and maybe come visit us at our Pipes Peak Ranch!

Just in case you missed our most recent episode of "Stupid Stuff" here's a quick link for you: "Stupid Stuff"
Like this Post?
Click to give it a thumbs up!