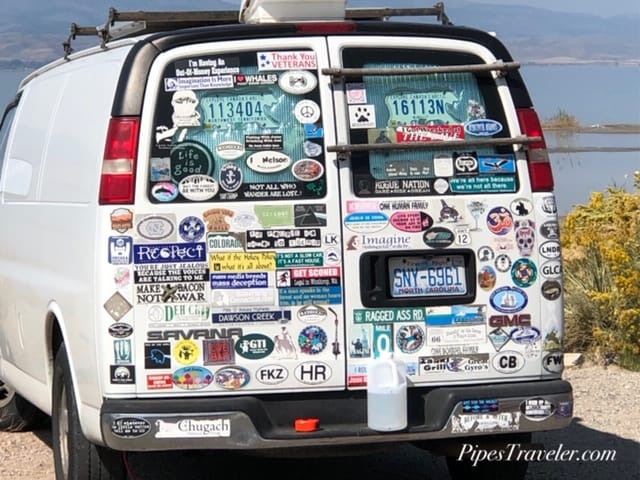 19 Oct

As the popular cliche' goes: "Not all who wander are lost".

As we traveled for many years across this beautiful Nation of ours we have met many interesting people who have enthusiastically told us of their wonderful adventures. It's always so inspiring.

This reportage' is brought to our friends and followers by Grand Teton Bike Tours located in Jackson, WY. They offer amazing services and the areas very best biking experiences in the entire Greater Teton area. For info call for Dave Hunger at (307) 690-0712

Those that told us about Bear Lake were right!! It is crystal clear blue water like the Caribbean. Bear Lake is located on the Idaho-Utah border. Both states are equally beautiful and the Idaho side of the lake was just as beautiful as the Utah side! 

We stayed at Bear Lake State Park in Idaho on the east side. Many of the sites are right on the lake with beautiful views of mountains across the lake.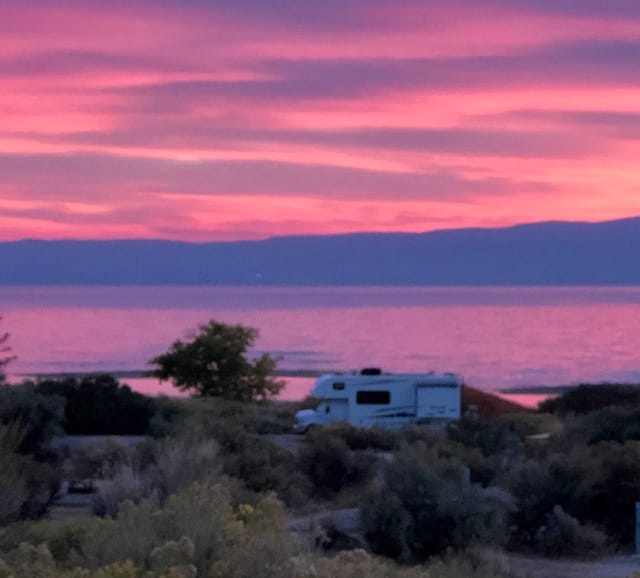 We enjoyed listening to teens play volleyball on the shoreline and scratched our heads at the sight of a tractor hauling a Sea-Doo out into the water so it could be launched in the deeper water. A full reportage' on Bear Lake State Park with lots of pics coming out soon to our subscriber list. As mentioned earlier, Bear Lake didn't fail us—we met interesting people!!
Bob and "D" Vilate from SC! They have been traveling and camping since the 70s!! Most recent years in a van! Bob explained that they could get places in a van that you can't in an RV. They have ventured to Alaska 4 times!! We each got out our big atlas—his with notes and highlighter that looked like mine. His had far more ink, notes and highlighter!!
Bob took such delight in telling me routes to take (go north to south), restaurants, museums, and other points of interest. After telling me about Alaska he took me on travels down the west coast, across the US and up to Nova Scotia, Prince Edward Island, Newfoundland, etc. All on my bucket list of places to see!! I wish we'd met these guys a day or so earlier so we could have visited more. He inspired me to want to travel 30 more years!!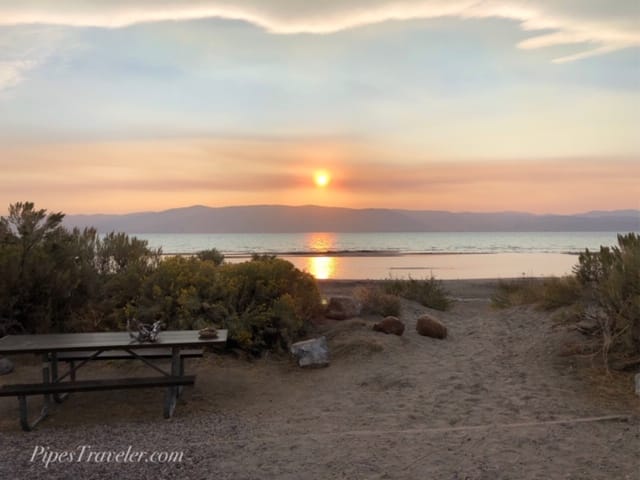 Oh! Another funny thing—as we sat side by side at the picnic table, he looked at me and asked, "How old are you?" I told him, 68, to which he asked, "Do you color your hair?" I told him I didn't but need to in front of my ears and forehead. Bob told me he had been his wife's colorist for years!! As abruptly as he asked about my age and hair, he went back to pointing out places to visit.
We had noticed Bob and D's white van before we met them. It was covered in stickers!! Chris and I noticed it as we walked around the campground the day before and laughed at the opinions and places he had plastered on the van. Chris even commented that they had more opinions than I did!! And certainly been on more adventures!!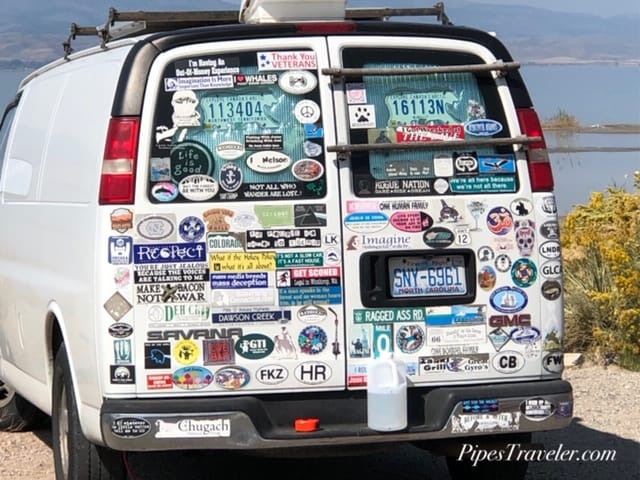 We've kept in touch with Bob and D since we parted. We plan to reconnect in FL after they've been to the Keys for a few months. I can't wait!!
Interesting people and beautiful places!! That's what makes life's journeys so meaningful!! I am blessed beyond belief!!
Respectfully submitted, The "current" Mrs. Pipes
Like this Post?
Click to give it a thumbs up!