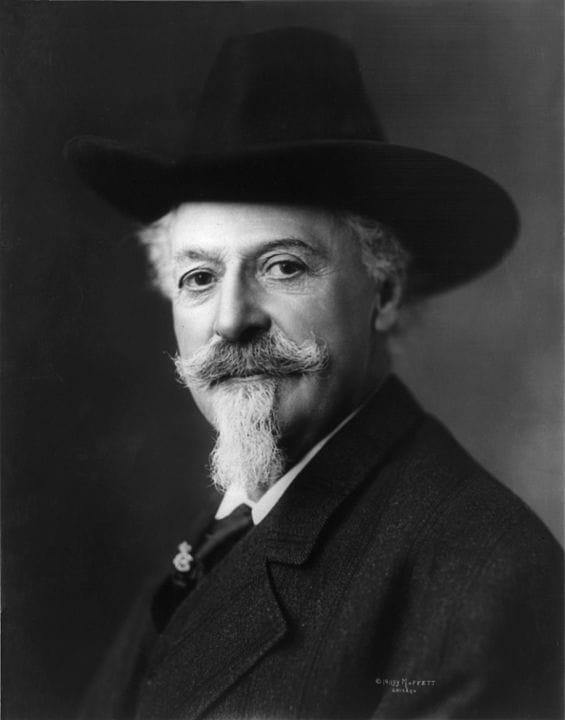 07 Sep

are "buffalo Bill" and "Wild Bill" the same crazy guy?

As we're out here venturing the West – it was such fun coming over here to visit Cody, Wyoming. We rolled through town on three different trips as we approached town from different sides as we were exploring other areas.

The first night we stayed at The Cody Hotel since we were 6 hours away from our RV and traveling with sis Pegi and her husband Clark from Orlando. The Cody Hotel was a solid 4 Star property and we all enjoyed it very much but there was a price to pay…. $230 for the one night stay plus tax, etc.

Upon deciding to stay for another night, we decided to rent a two-bedroom cabin at Buffalo Bill's Cabin Village. The cabins were first built in 1933 and several years later moved to the site that we stayed at near the center of Cody. The price was only $120 plus tax and the cabin was very cool….the two rooms were separated by the nice bathroom and the entire cabin had been completely remodeled recently and very well done.

A week later Liz and I came through town again and we choose to stay in one of their one bedroom cabins the rate was $94 plus tax and we enjoyed it…plenty of room and very quiet.

Anyway, we're now back in the area with our RV and staying outside of Cody about 25 miles due West at the Wapiti Campground located within the Shoshone National Forest – loving it. The weather just changed with rain and wind and of course the river is now muddy and cranking…maybe we'll get the tackle out tomorrow? It was absolutely gorgeous yesterday morning… shoulda woulda coulda.

Cody is a true Western community – not just because its in the West but its got all the trappings of what we SE's think about when someone says out West. There's a nice rodeo that takes place here every night, old western hotels, bars and restaurants with the authentic feel of the old West.

We had dinner the first night at at The Proud Cut Saloon n' Steak House…great food and awesome atmosphere to enjoy and put you in the mood for the evening. The service was above average too so I felt compelled to tip them a FULL 10%. Kidding….I have gotten cheap now that I'm retired but not THAT bad. Yet.

We had to go in to check out The Silver Dollar Bar in town also. The burgers were big and delicious, beer very cold and the prices were reasonable. This place was very popular among the locals and us traveling reporters too.

Many of you that know me well remember me for my many years in the resort hotel business – all sales and marketing roles so when I learned about the beginnings of the Irma Hotel – I was intrigued. I saw some of the earliest pictures of the Irma Hotel shortly after it opened here in Cody back in November of 1902. The entire area around the hotel was barren – maybe 3-4 old clapboard sided homes, a horse stable and a small store. Imagine this setting and having the balls to invest $80,000 in this brand new hotel smack dab in the middle of vast nothingnesses – way out West, far from any population centers. $80,000 was the equivalent of $16 million in todays dollars. Based on this alone "Buffalo Bill" should have been named "Wild Bill"!

William F. "Buffalo Bill" Cody had the vision, the capital and the impressive confidence to make this investment and statement in a place and time that was unheard of by everyone in that era. BTW "Wild Bill" was Wild Bill Hickok and not to be confused with "Buffalo Bill" Cody. Evidently, Cody did hire Wild Bill into his Wild West show at some point in time but true to his name Wild Bill become irritated when a bright spot light shown upon his face during a performance and thusly pulled out his 45 and shot out the light! He lasted only a few weeks with the show….

Cody named his new hotel after one of his daughters and its still a thriving operation to this day. The restaurant and saloon are both very popular as is the open-air bar service on the side deck/porch.

Buffalo Bill was 56 when he opened the hotel and was many years into his well-established fame as a Bison Hunter, Pony Express Rider (at age 15), Am. Civil War soldier (for the enemy of the Southland), a Civilian Scout for the US Army during the Indian Wars and an incredible Showman. He was awarded the Medal of Honor in 1872. His Wild West shows were incredibly popular around the world. He started the shows when he was 37 back in 1883. He died at 71 years of age in 1917.

Today and thanks to Buffalo Bill the town of Cody is thriving nicely. The population is 10,000 and real estate prices are strong and availability is limited. The elevation is 5,000′ and the proximity to the Shoshone National Forest and Yellowstone National Park make it a very desirable place to live. The infrastructure seems ideal and the tourism industry seems to be viable. The Buffalo Bill Center of the West Museum is incredible and one can wander in there for 2-3 hours with no problem. $20 for adults, $13.25 for youth (6-17) and free for kids 5 and under. We loved stopping in over at the Chamberlin Inn for drinks….anywhere for a drink right? Beautiful atrium area as well as outside seating in the garden courtyard.

Don't pass up Cody, WY when you're out in this part of the country…. We LOVED it.
Like this Post?
Click to give it a thumbs up!