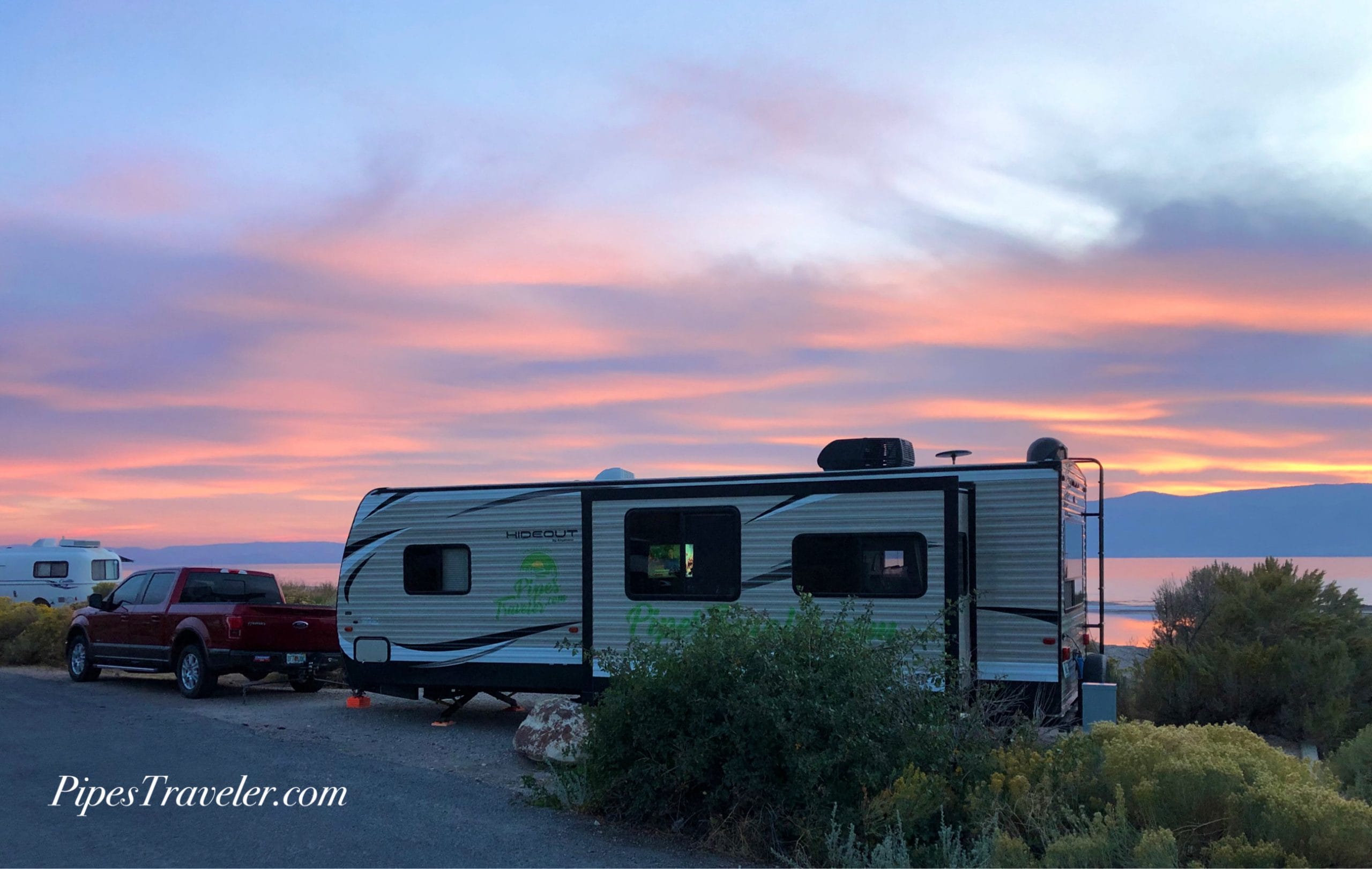 09 Feb

A LAKE DIVIDED
PipesTraveler Rating:





As Liz and I were wrapping up our visit to West Yellowstone, MT in mid-September last year we began our travels with South on the compass point. We knew the season was quickly coming to a close during that time of year. Our destination was to our ranch in Cripple Creek, CO known as PipesPeak Ranch.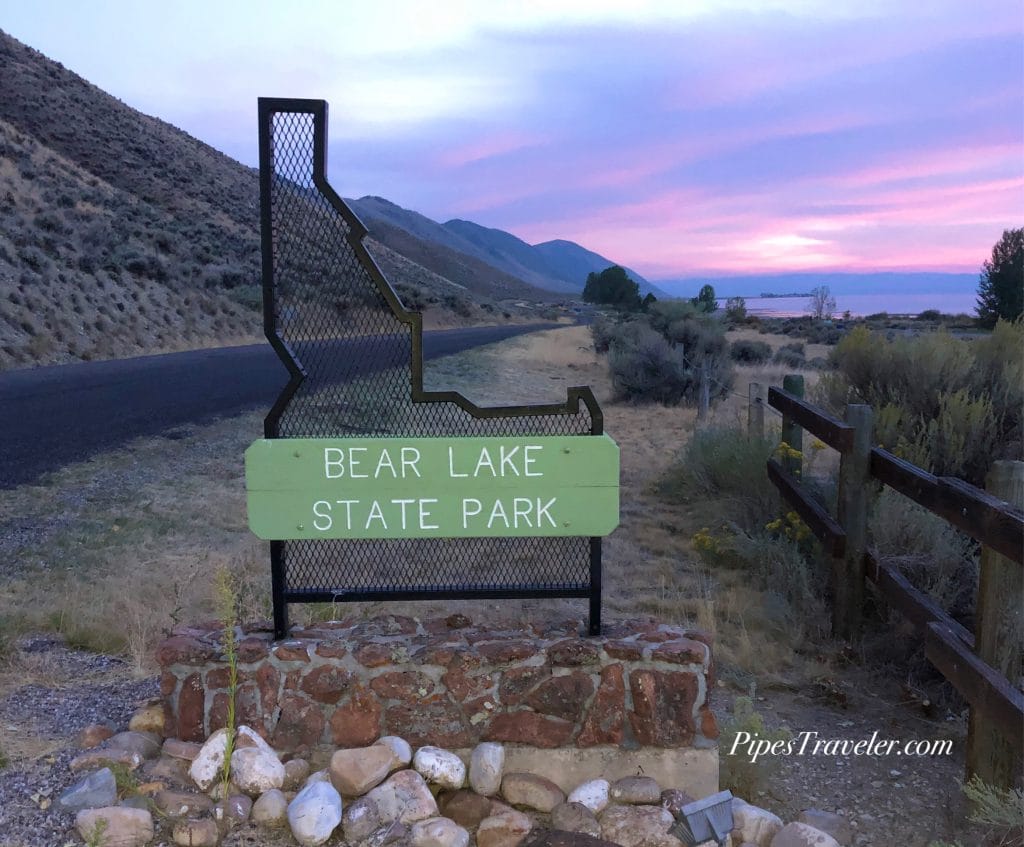 We wanted to spend a few more days exploring the region before hitting the road that was indeed more familiar in Colorado. Our plan was to sample a state park we'd heard about from friends that would give us a good stopping point on the roll south.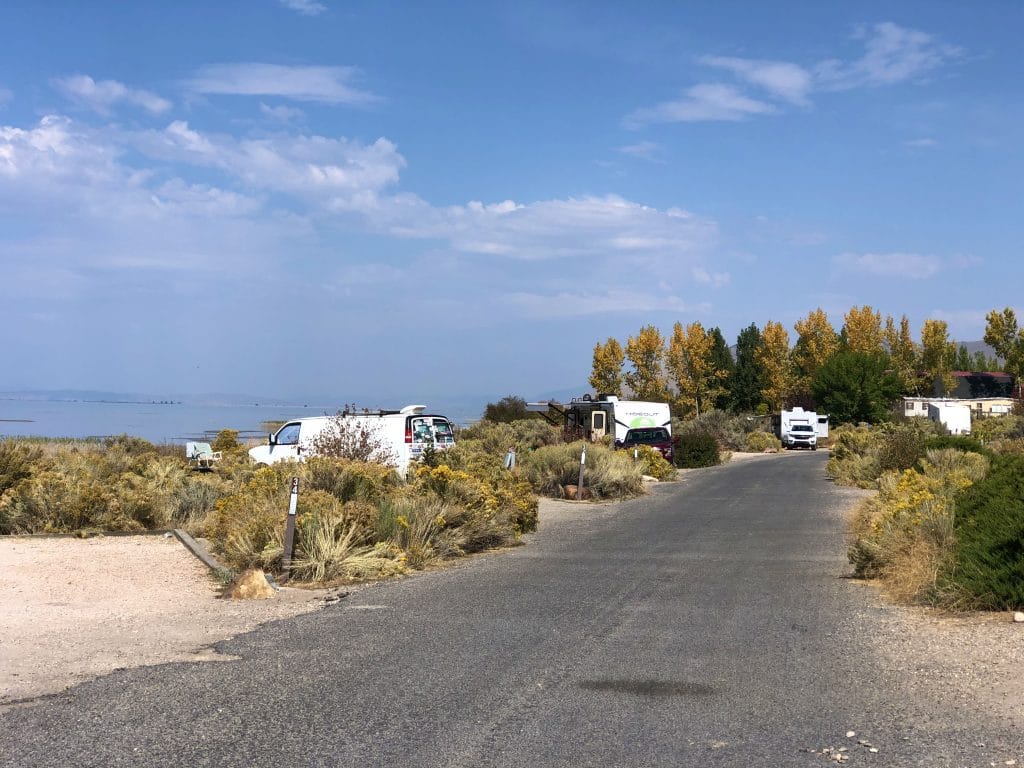 About 4.5 hours south we'd pull into Bear Lake State Park with plenty of time to find a good site and get set-up. It's an Idaho State Park located right on the east shoreline of the vast Bear Lake. As this post name would imply…the lake is split almost exactly in half from North to South with the north section being in Idaho and the south all in Utah.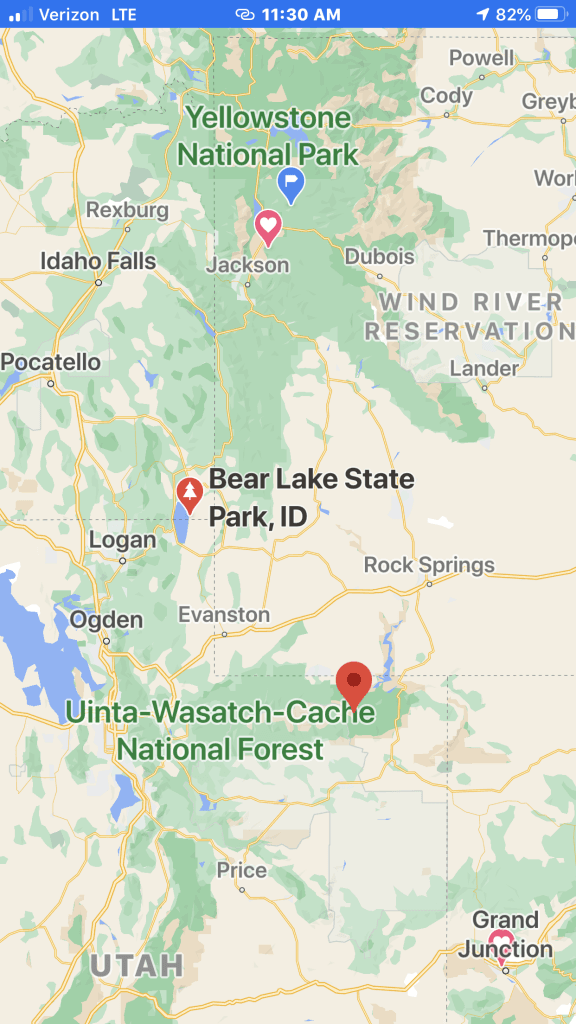 When we pulled up to the entrance there was no one at the welcome office just signage about costs, etc. we picked up a payment envelope and began the search for a good site for 3 nights. Interestingly enough we had the pick of the litter! Very few sites were occupied and we were able to get a lakeside spot with no problem! The campground is entirely on the eastern shore so every site gets an almost magical sunset view.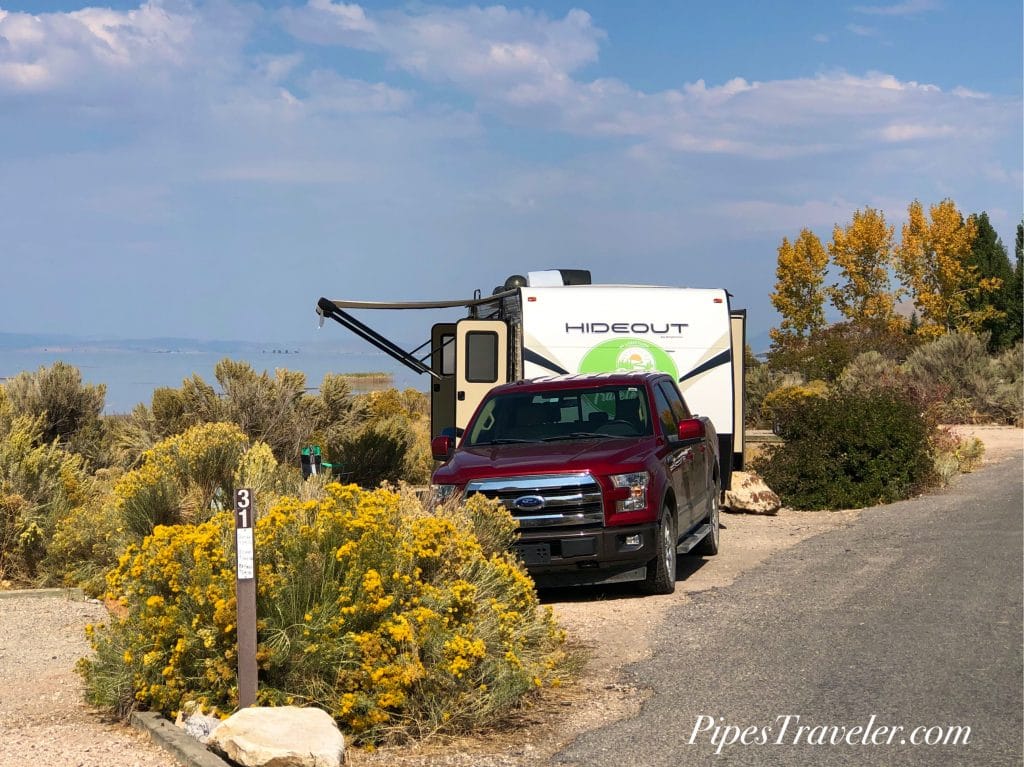 The sites weren't huge but comfortable and spaced just far enough apart so that everyone had a good sense of privacy. We were all set-up in a matter of 20-30 minutes and got ready for cocktails and a pretty sunset.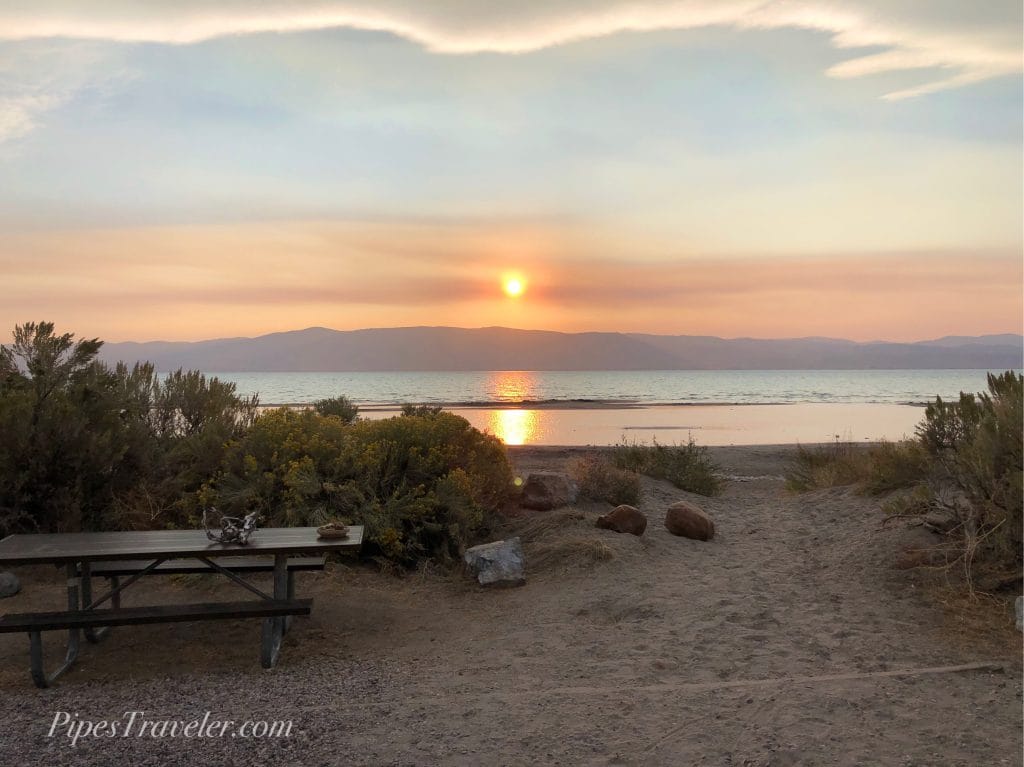 Each site had water connection and electric service but no sewer tap. Fire rings, picnic tables, grills for each site and vault toilets, dump stations and restrooms on hand as needed. The sites behind us gradually arose so that each roadway had enough height to afford everyone a good view of the lake. The lake is often referred to as the "Caribbean of the Rockies" due to the size and the beautiful turquoise colored waters. The shoreline very gradually will get deeper but will take a good walk out and this is perfect for kids to splash around near shore without fear.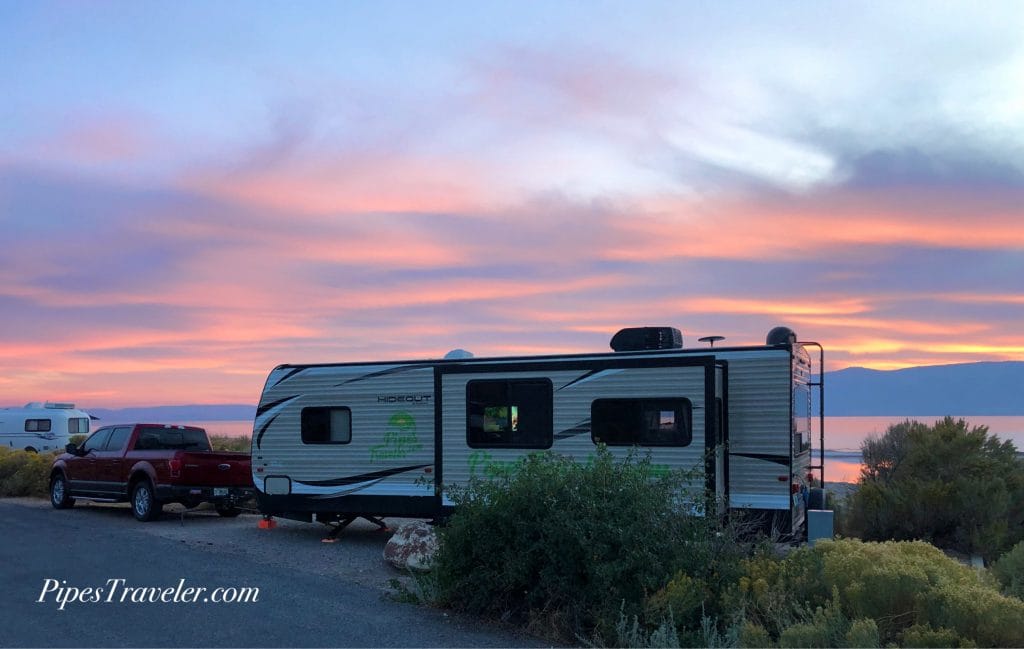 The campground offers about 50 sites total and in-season they will all fill by 11am on Fridays. Obviously a very popular destination for families in the summer but with the already cooler temps we caught it just right. The elevation there is 5,900′ and the closest township is St. Charles, ID and the address is: 3rd North 10th East, The electric sites (most) are $28-31 per night but like most state parks seniors get a 50% discount. To make reservations call 888-922-6743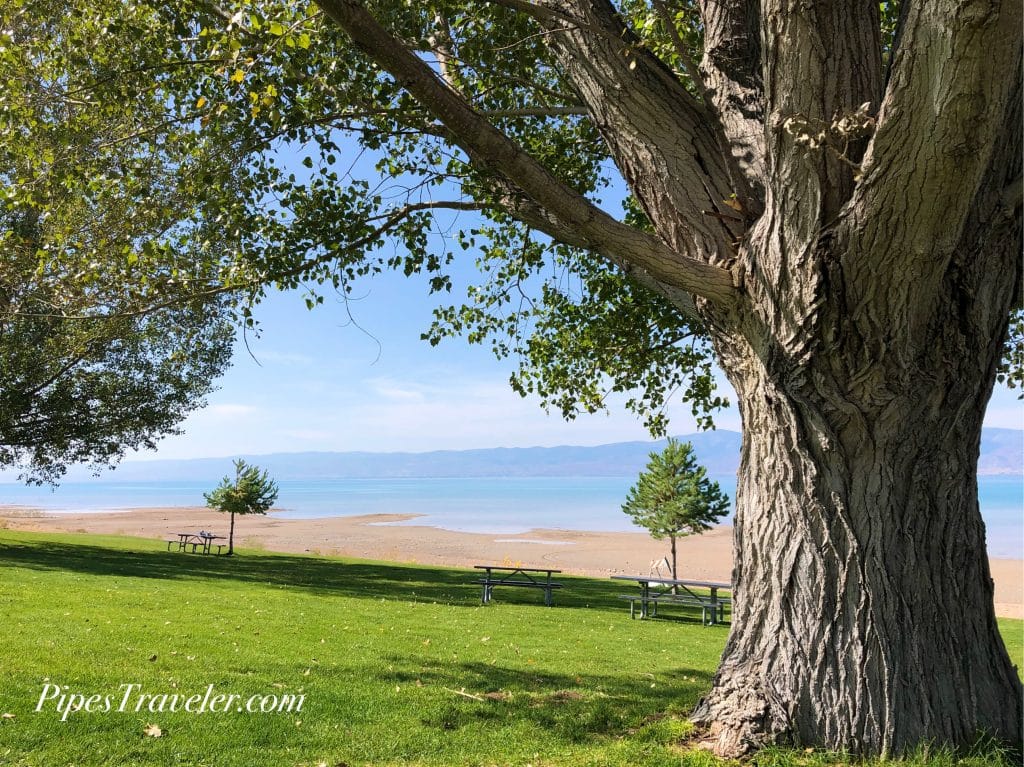 They tell me that in the winter the ice fishing on the lake can yield the Bonneville cisco, a fish found no where else on earth. The cisco is a species of whitefish. This park is equal distance from Jackson, WY to the north and Salt Lake City to the south…. about 135 miles to either.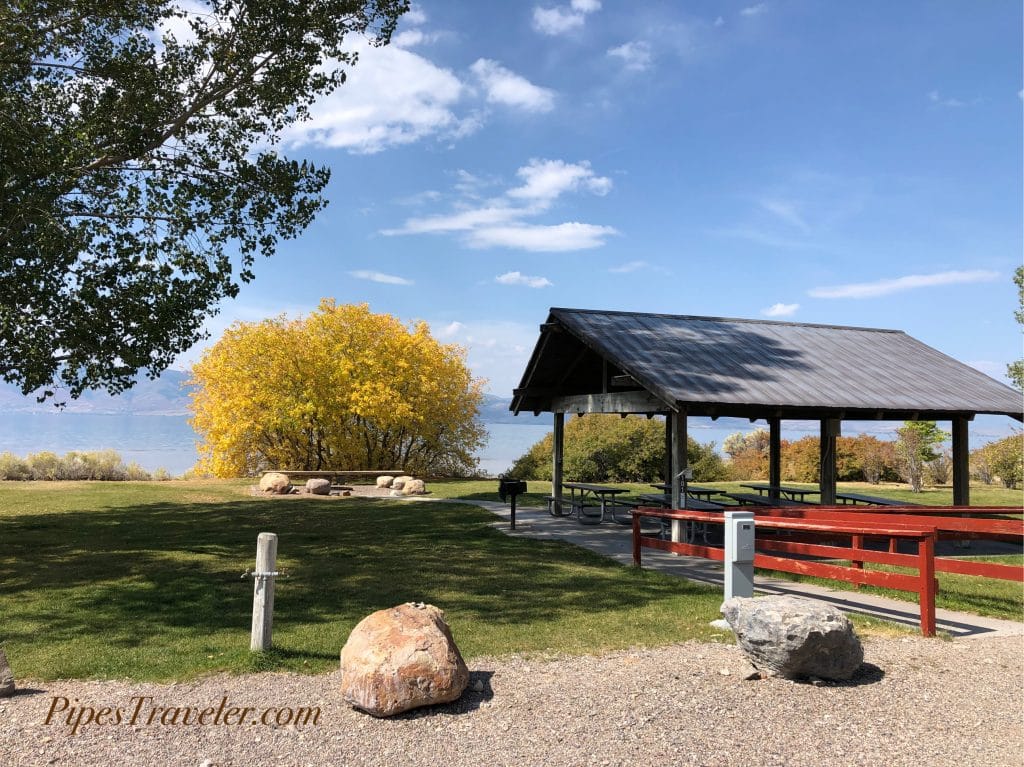 We really enjoyed our visit there and took walks along the shoreline daily. The scenery was terrific across the lake for the sunsets and a bit later as the sky got dark the tiny lights from the other shoreline was beautiful. We heard they had a bit of a mice problem there and sure enough a couple found their way in! Damn it. We were able to dispatch of them in short order with mice traps but you've been warned.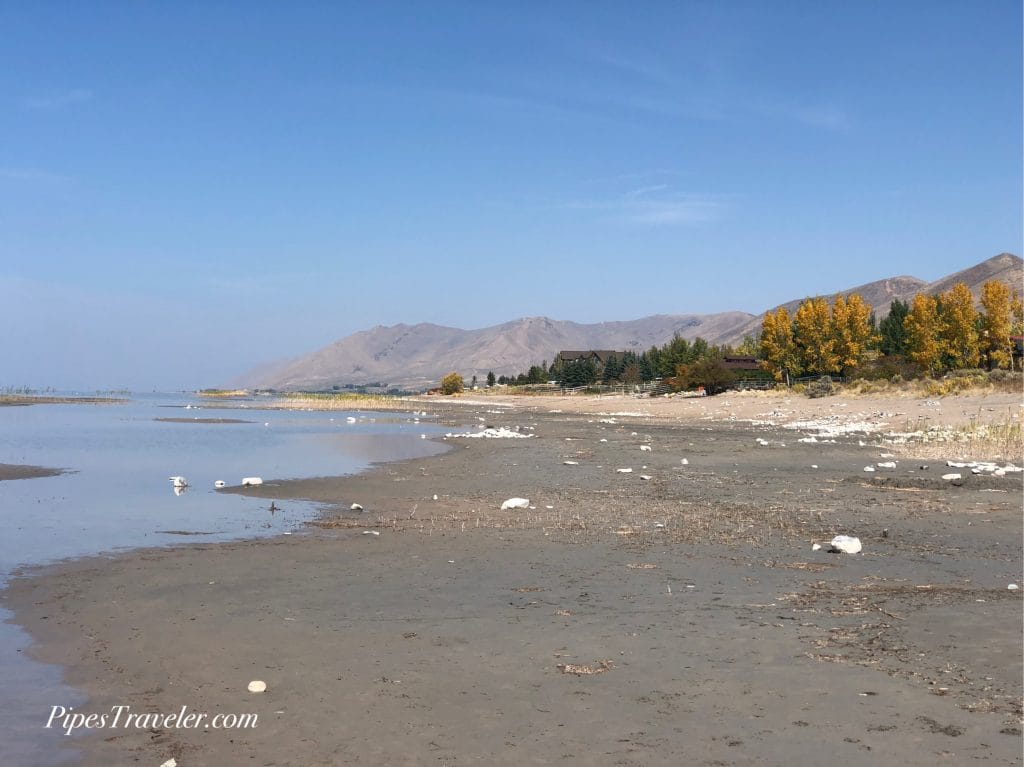 We never saw any park personnel the whole time we were there…I guess it was pretty much on auto-pilot. All things considered including the mice, we'd give this park 4.5 "Pickles" and do recommend to our friends and followers.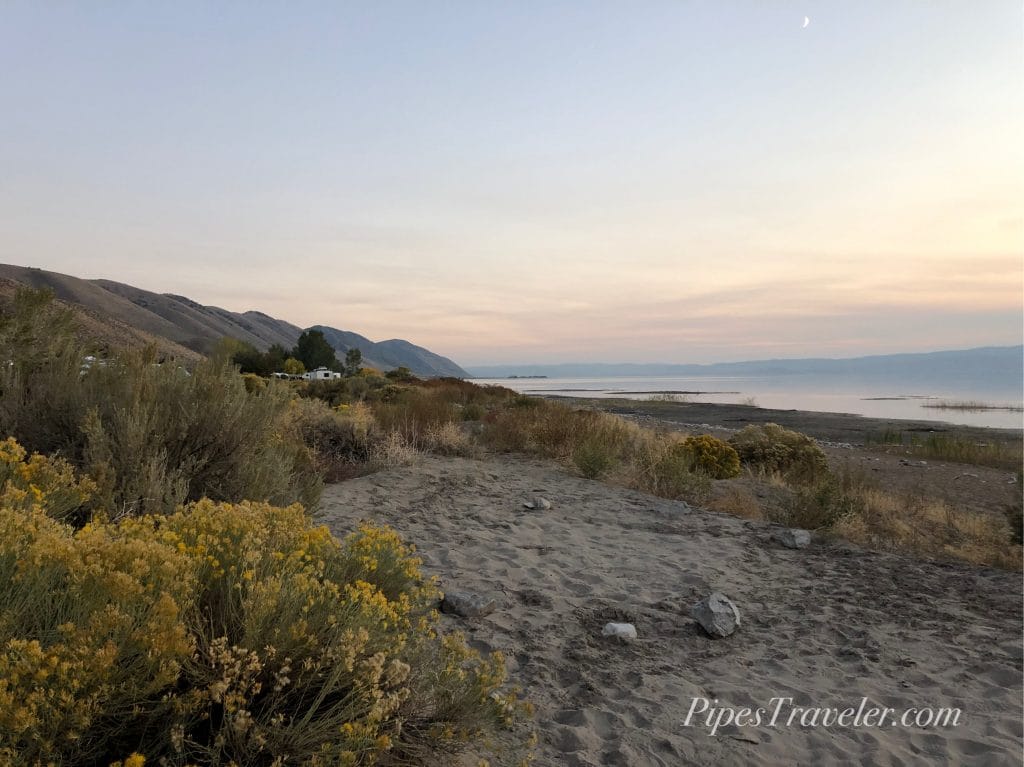 Here's a link to the website: https://parksandrecreation.idaho.gov/parks/bear-lake/
Like this Post?
Click to give it a thumbs up!