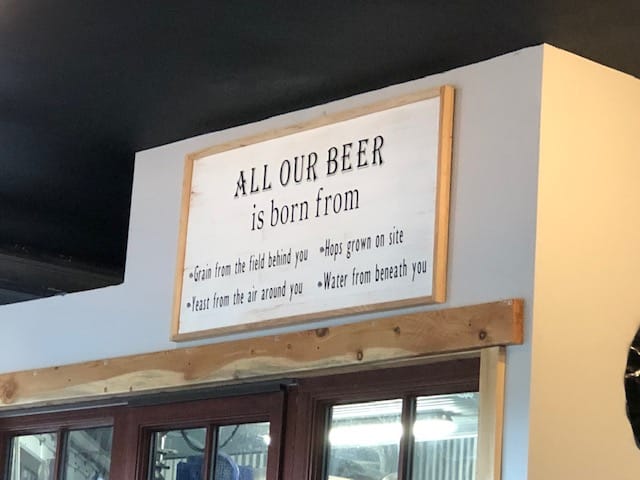 01 Jul

A Farm, a Brewery, Food, and a Place to Sleep for Free…

Liz and I were in-route to Colorado coming up from New Mexico a few weeks ago…the road was straight but interesting as it was like a mild roller-coaster. We were dodging isolated but scary looking thunderstorms. I hate to drive in stormy/windy weather so cruising along and staying ahead of the storms was my main focus.

We left fairly early in the morning to start the trip because we hadn't made any reservations for a campsite and there seemed to be only a few options in the vicinity we were heading. Frankly, we LOVE to just fly by the seat of our pants and don't like to get locked into anything – we like being "free" and flexible.

About 3pm we crossed over the Colorado state line and began to search for ideas… I asked Liz to check out our Harvest Host app and see if there were any options in the direction we were headed. About 30 minutes later she said "hey right up ahead about 10-12 miles there's a place called The Colorado Farm Brewery.' We had to take a road off to the west for a few miles and all of this was South of Alamosa, CO. It sounded perfect and different so off we go!

With our annual membership in the Harvest Host program, we have access to their app to search for "hosts" that offer RV'ers a FREE night or two stay at their business….it's a vast collection of farms, wineries, orchards, golf courses, museums, etc. that allow us to pull in and park for the night. The idea is they want us to come in and visit the business; buy a bag of apples, a bottle of wine, tickets to the museum, etc. in exchange for the free place to stay the night. There's no obligation to visit to buy anything, etc. but we suspect that most folks spend a few dollars like us.

We pulled into the farm after 4pm and began to search out someone to talk to about where we could park our camper. We were greeted by a big fellow and his grandson who were very friendly. They showed us where to park. Granddad told us they grow all the grains needed to make their own select brews in their farm brewery….he went on to say – we'll be opening up the Brewhouse and Taproom at 5 and the BBQ food truck will be serving up their awesome brisket with all the trimmings!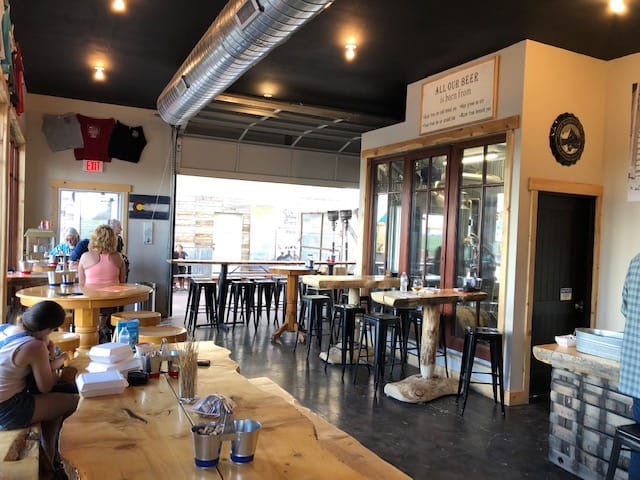 We pulled around to the designated spot, got all set up and popped the top on a chilly beer that we had in the fridge. Our awning was extended and we sat out looking across a huge grain field, the San Luis Valley, and the Sangre d' Christo's in the background. We just chilled and hung out till we saw other guests starting to arrive to the farm's Taproom. This place was out in the country and it was hard to imagine there'd be anyone coming this far out to drink a few beers but the bar was quickly filled with 14-18 people of all ages.
We drifted over still thirsty and hungry to check it all out….it was a fun and very unique experience. Hospitality was terrific; the beer selections were WAY above our expectations! We tried 2-3 different beers and had a big plate of food from the BBQ Food Truck.. The whole evening was so fun! We drank, visited with the owners, staff, and locals. We ate a delicious meal and later slept like babies….
It's a damn fine family business (over 80 years strong) and we are happy to recommend you visit them if you're ever in the Alamosa, Colorado area. Open only on Thursday, Friday & Saturdays. Harvest Host has become a "go to" source for us and suggest you check them out too, if you're RV'ers.
The Colorado Farm Brewery – 2070 County Road 12 South, Alamosa, CO 81101 (720) 739-1168
Website to great beer and fine folks
Like this Post?
Click to give it a thumbs up!